A well-lit house with beautiful and creative landscape lighting always turns heads, but before you rush out to buy your exterior lighting products, you need to know what you want to light up and why. There's more to lighting up a home's exterior than just lights hanging on either side of the front door.
Perhaps you want to light up your landscape for safety, or you like to entertain on summer nights; whatever the reason, these landscape lighting ideas are sure to spark some inspiration and get your creative juices flowing.
Before we dive into the ideas, you will want to make sure that you mark out a budget for your landscape lighting project and make sure that you consider some factors.
Cost of Landscape Lighting
The cost of landscape lighting can't be narrowed down into a rough estimate since you will need to determine if you can install the lighting or need a professional to do the installation. Other factors to consider are if you already have some lighting in place and the size of your yard. Larger yards mean more lighting, which means more cost.
Installing Landscape Lighting
Whether or not you can install your landscape lighting will have to do with the type of lighting you are doing. A seasoned DIYer can usually replace a light fixture with something new and trendy when there is already an electrical run. Still, if you want to put lights where there is no electrical, it might be wise to call in a pro.
There are, however, many solar options for landscape lighting that will make installing and setting up your yard lighting very attainable.
Best Spots To Place Landscape Lighting
At the base of an outdoor feature – this is referred to as highlighting
Behind a feature or towards a close wall – this is referred to as silhouetting 
At the bottom of a feature towards a wall – this is referred to as shadowing
A few feet away at an indirect angle to a shrub or wall – this is referred to as washing
Low at the base light like washing, but more direct – this is referred to as up-lighting 
Pathway Lighting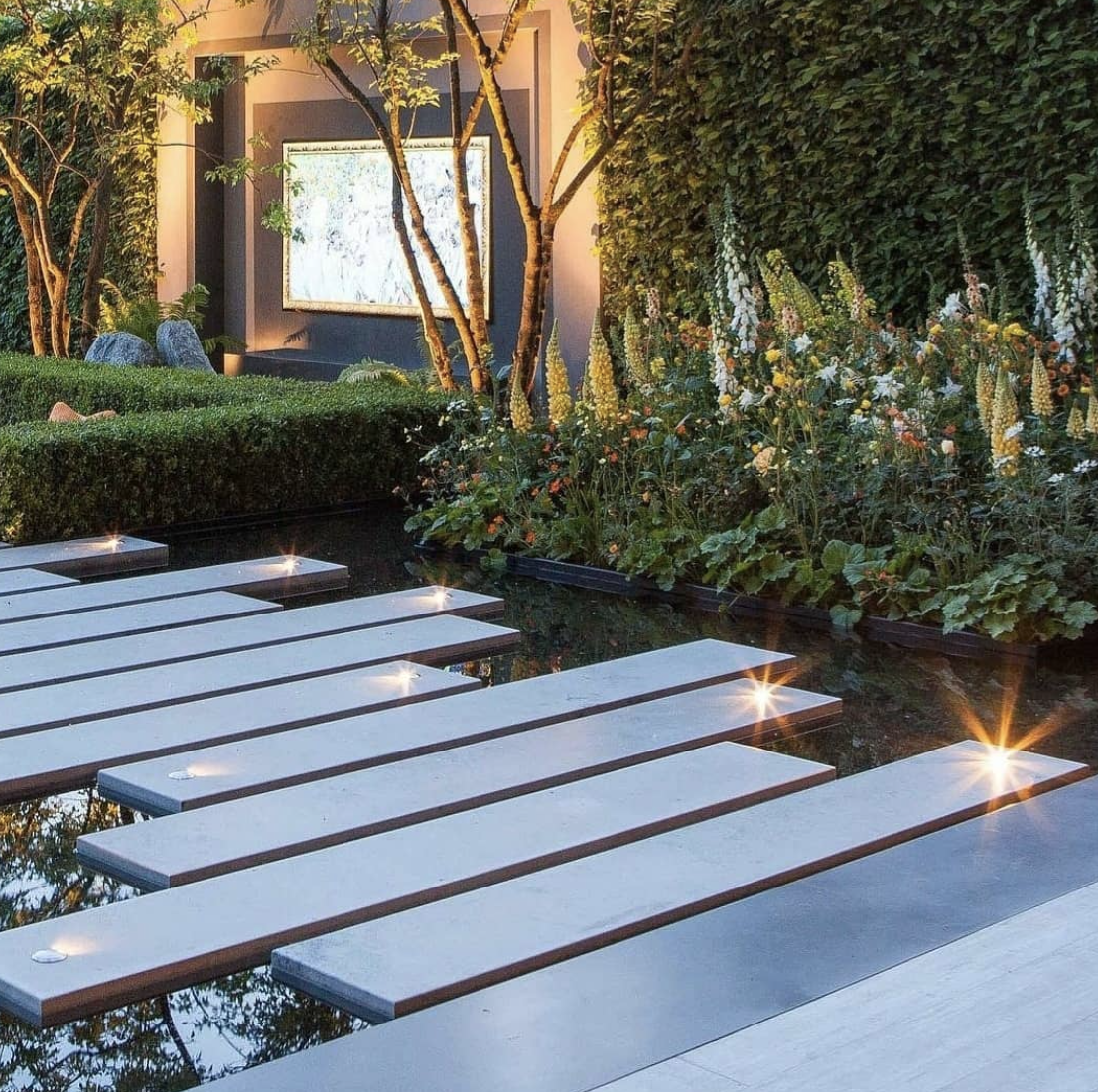 Pathway lighting is among the most common type of landscape lighting. Not only does pathway lighting make walking safer at night, but it will also illuminate your back or front yard low and close to the ground for a more subdued lighting effect.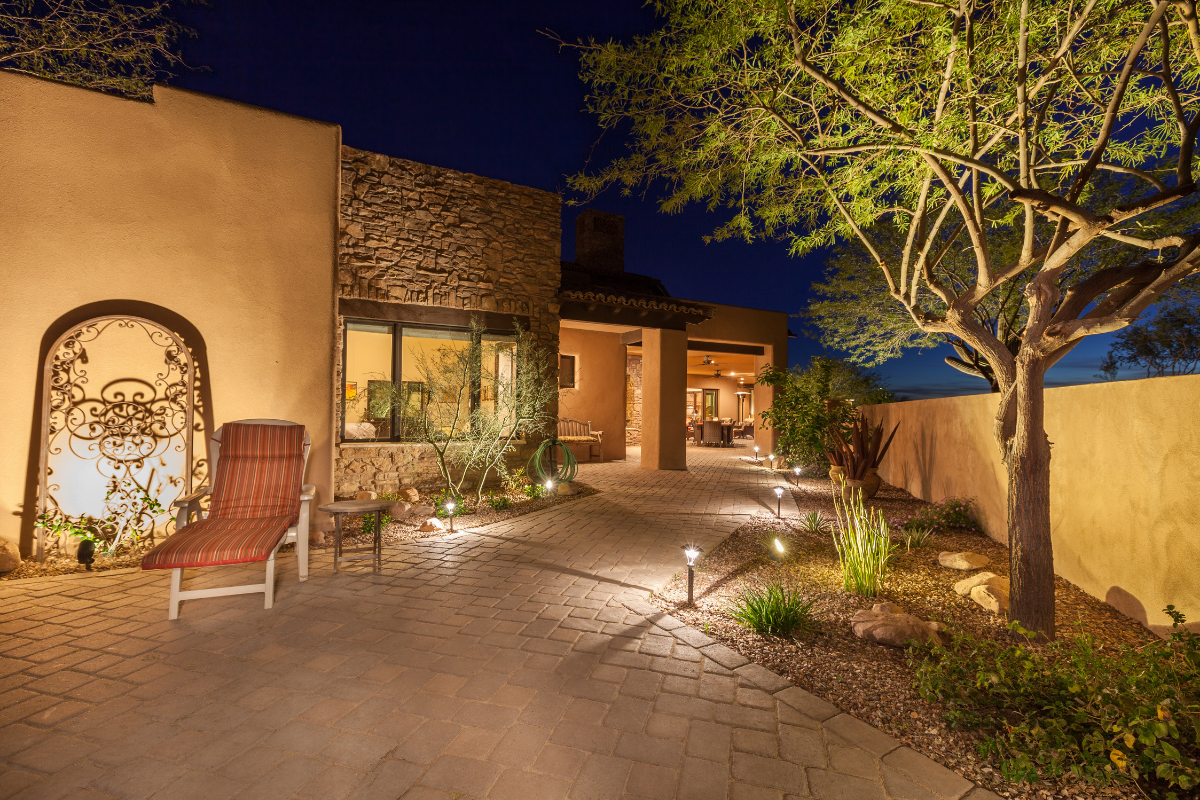 Pathway lighting also looks excellent on stairs leading up to a deck or porch. As well as illuminating a path or steps, lighting up the area around the patio is a classic look as well.
Downlighting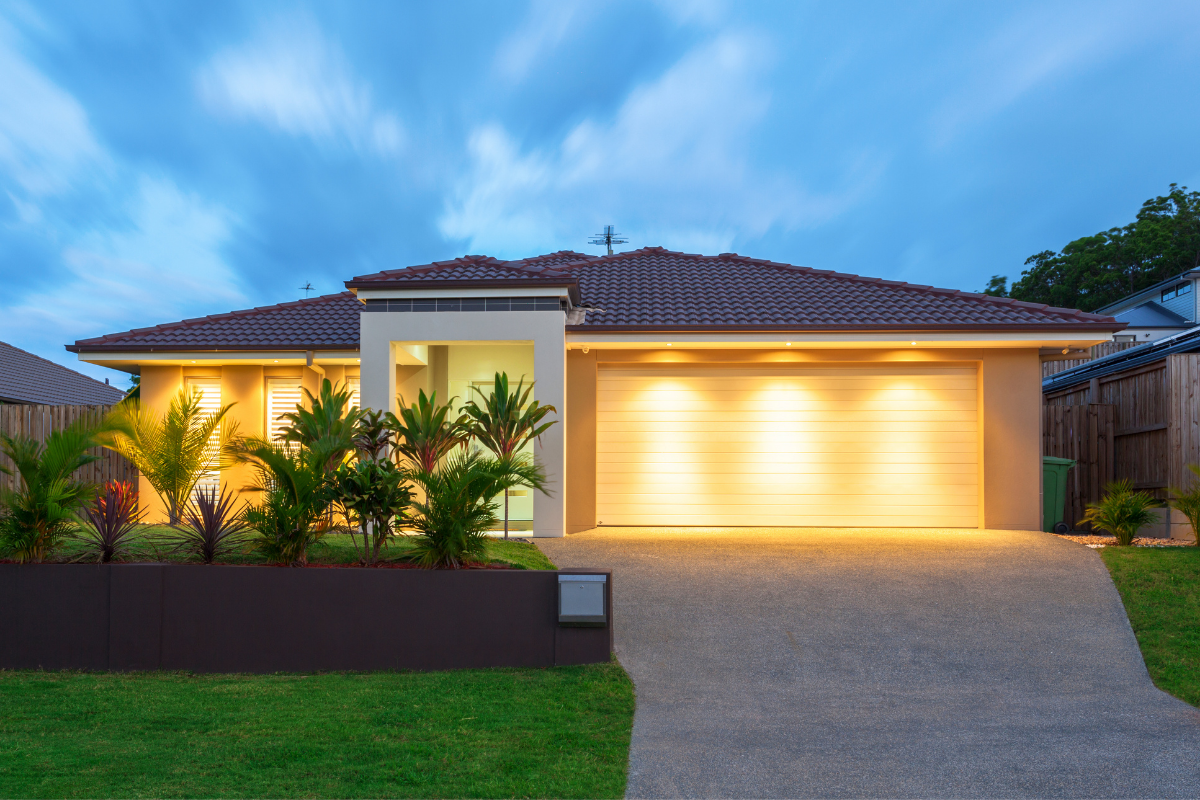 Casting lights down from under the roof of the house lights up the home's whole exterior. This looks great at night and also lights up your house for safety purposes.
Make Use of Trees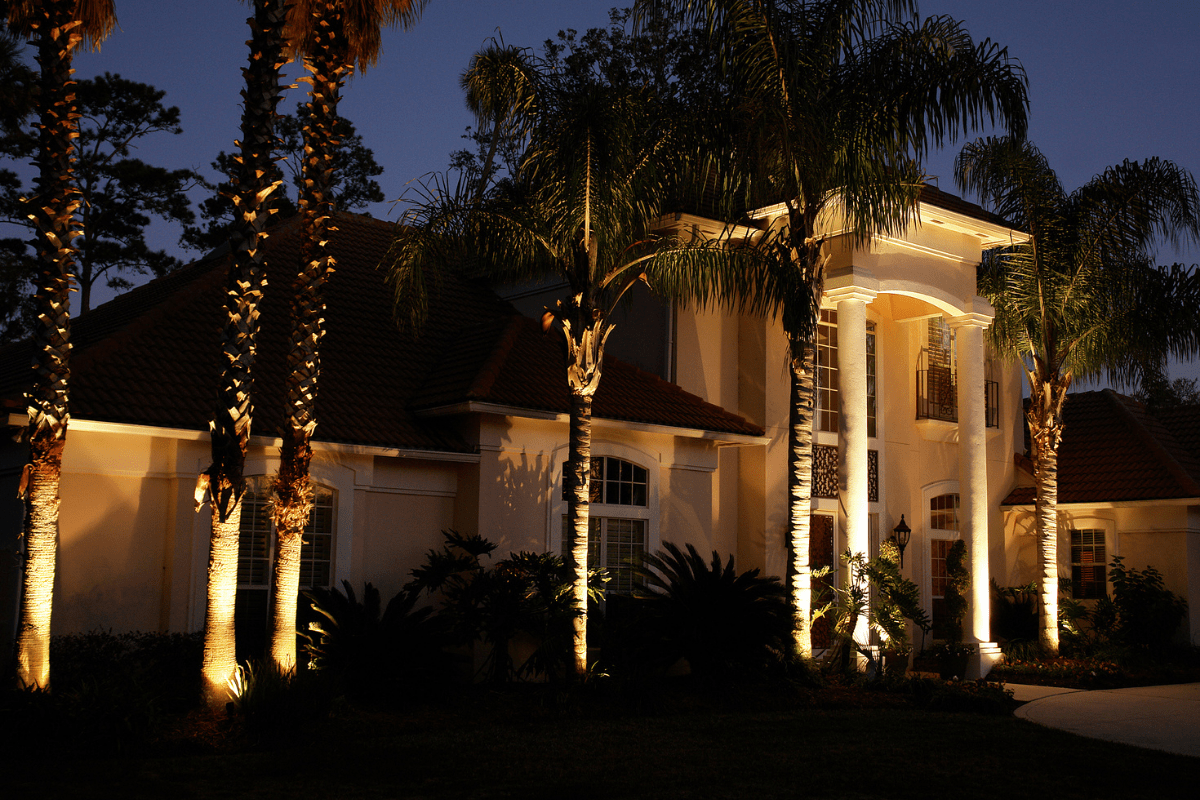 Tree lighting is not just for Christmas! Placing lights on the ground and then shining them up to the trees will give your home a grander feel. You can also string lights around tree trunks in the backyard for fun lighting — great for summer late-night parties.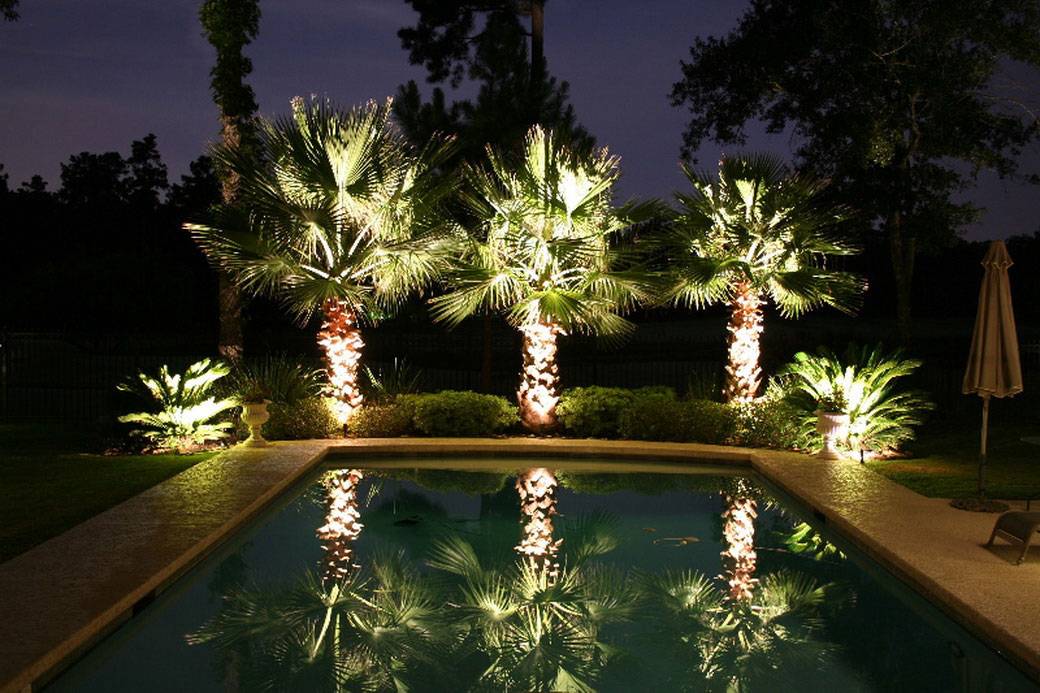 You also don't have to put the directly attached to the trees either. You can make use of flood lights to illuminate the trees and light them up from the ground. This looks especially spectacular around pools and water features.
All-Around Lighting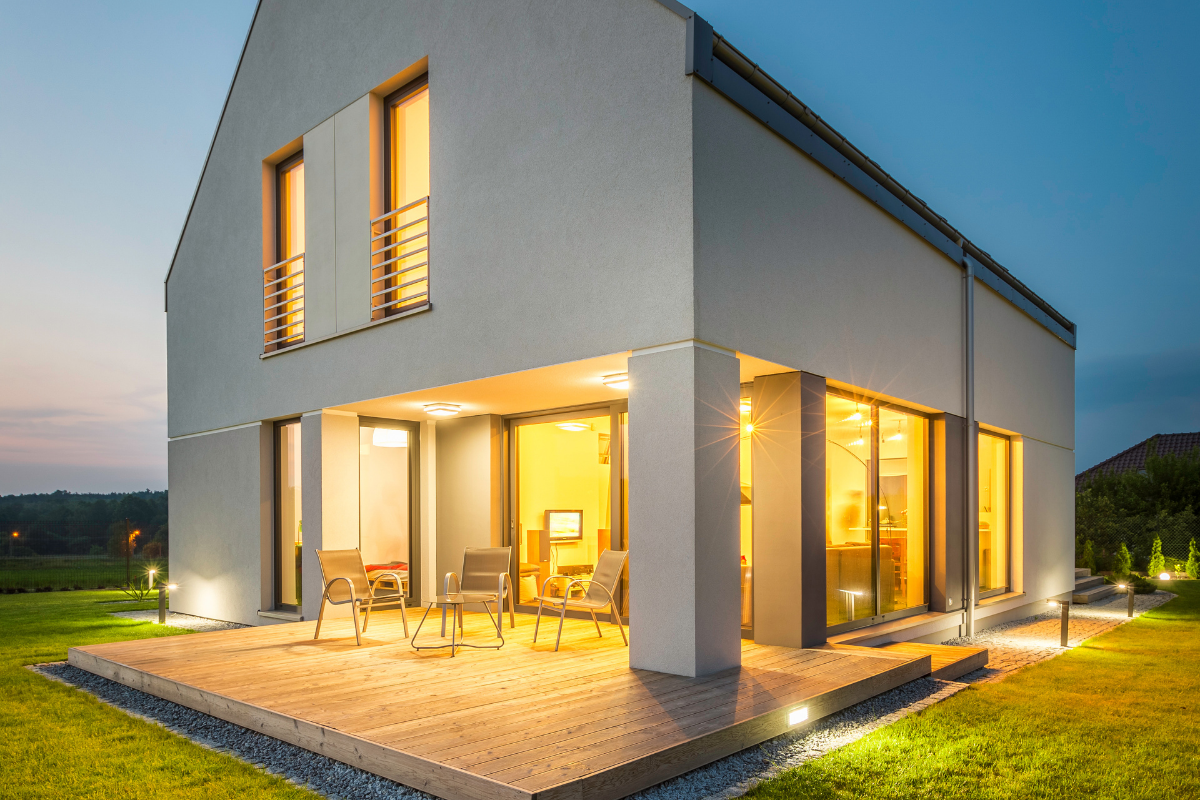 Lights under the roof of your patio, on the sides of the patio, and the pathway. This home is lit up like a Christmas Tree. Large floor-to-ceiling windows also allow the light from inside to shine out.
Add a Feature Wall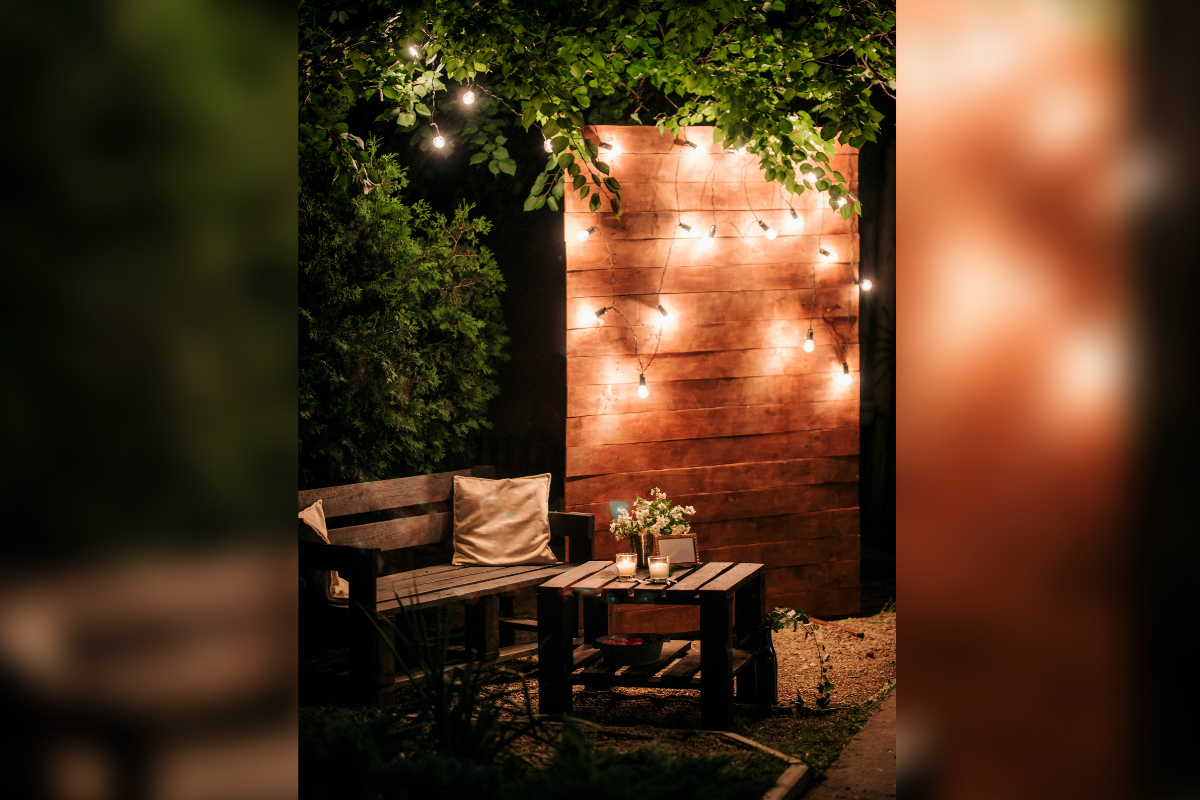 Build a feature wall in your backyard, then layer on string lights. This is an excellent idea for those needing a little backyard privacy!
Add Light in the Garden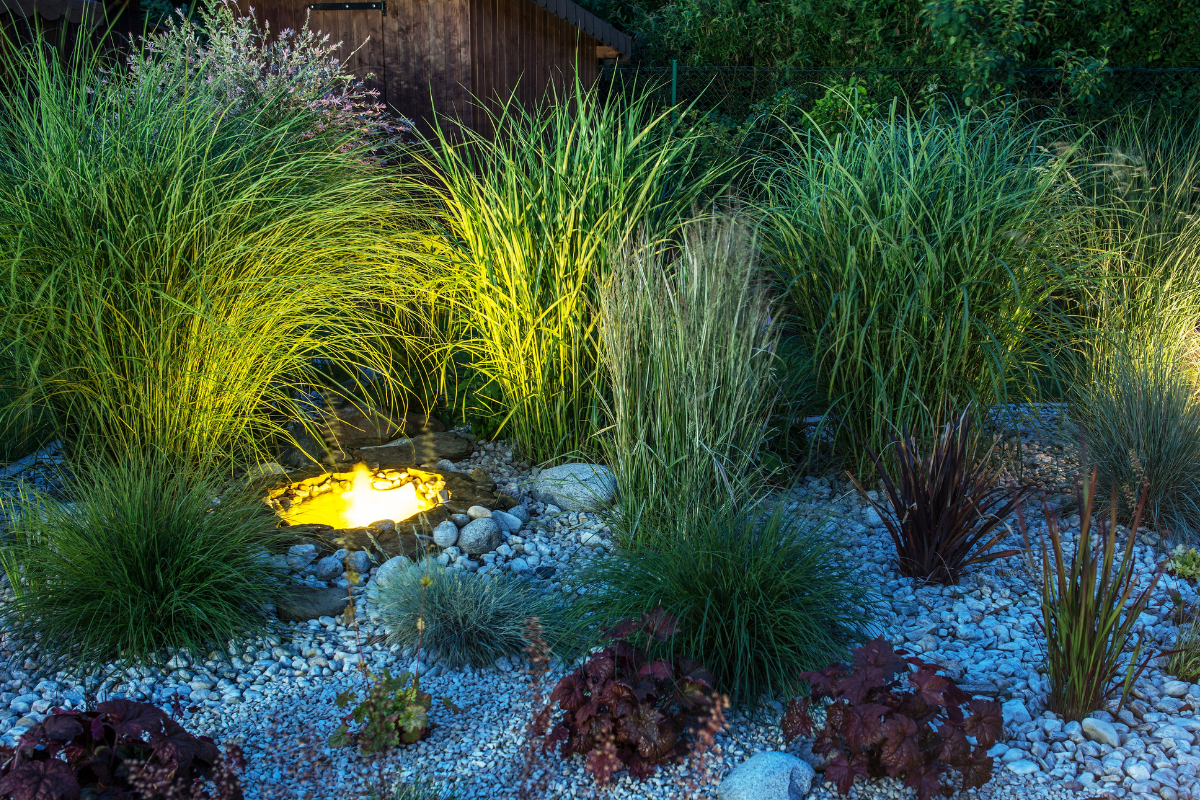 Putting light in the garden to light up shrubs and grass at night is fantastic. Garden stones that light up or water features with lights are a fabulous idea.
Pool Lighting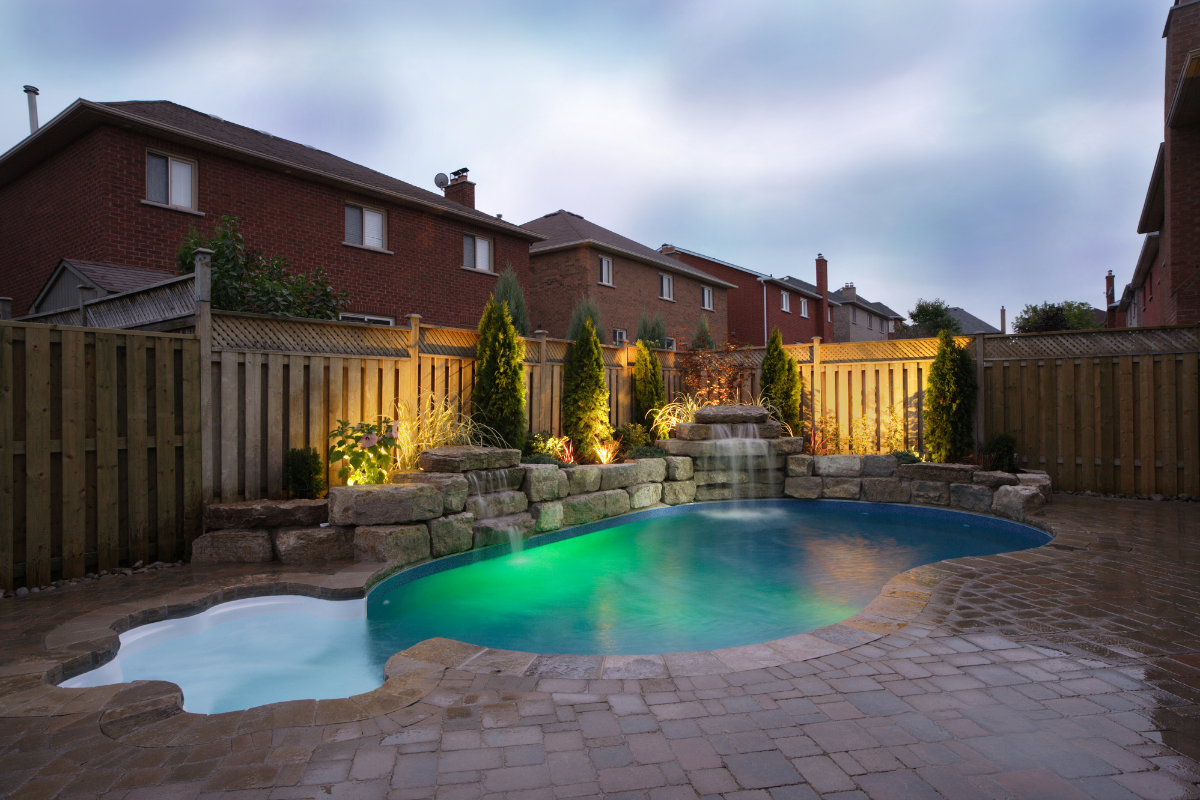 If you're blessed enough to have an inground pool in your backyard, don't waste an opportunity to light up the water. It's so pretty at night and sets a great atmosphere for late-night summer swims.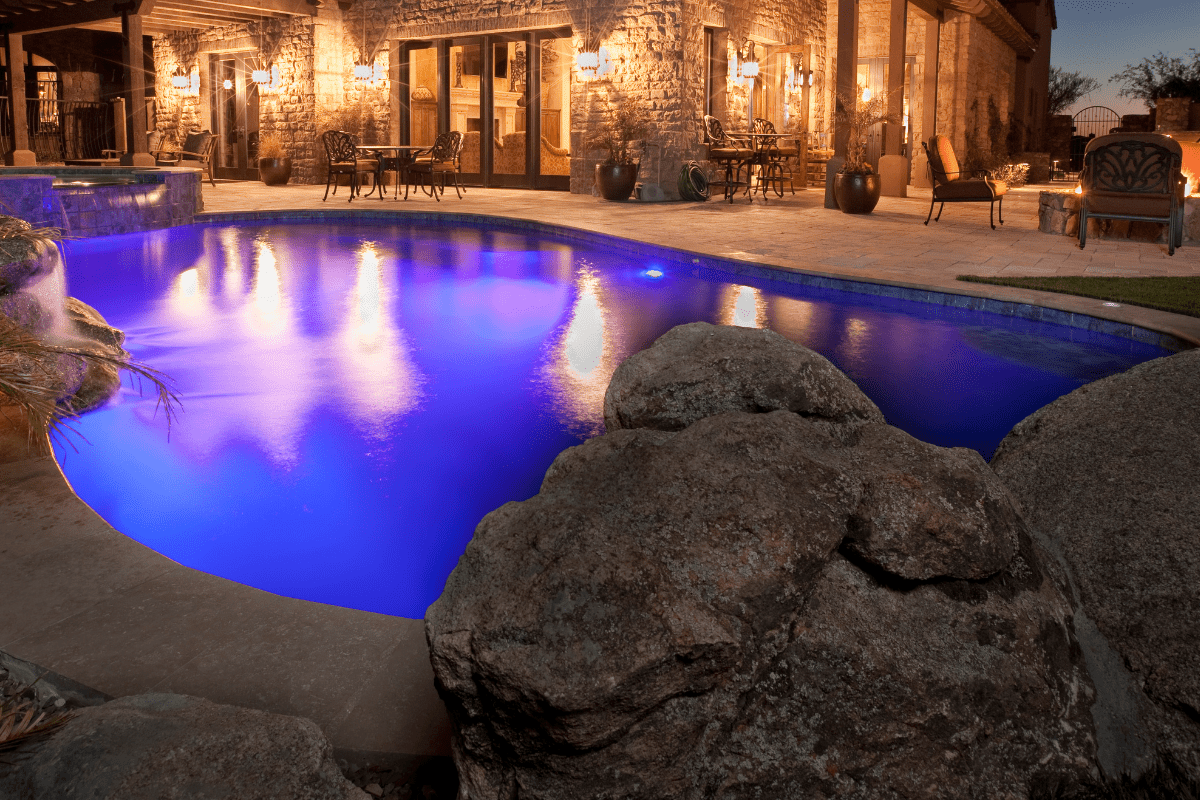 If your house is close to your pool, you can also add extra exterior lighting on the side of the house to light up the area.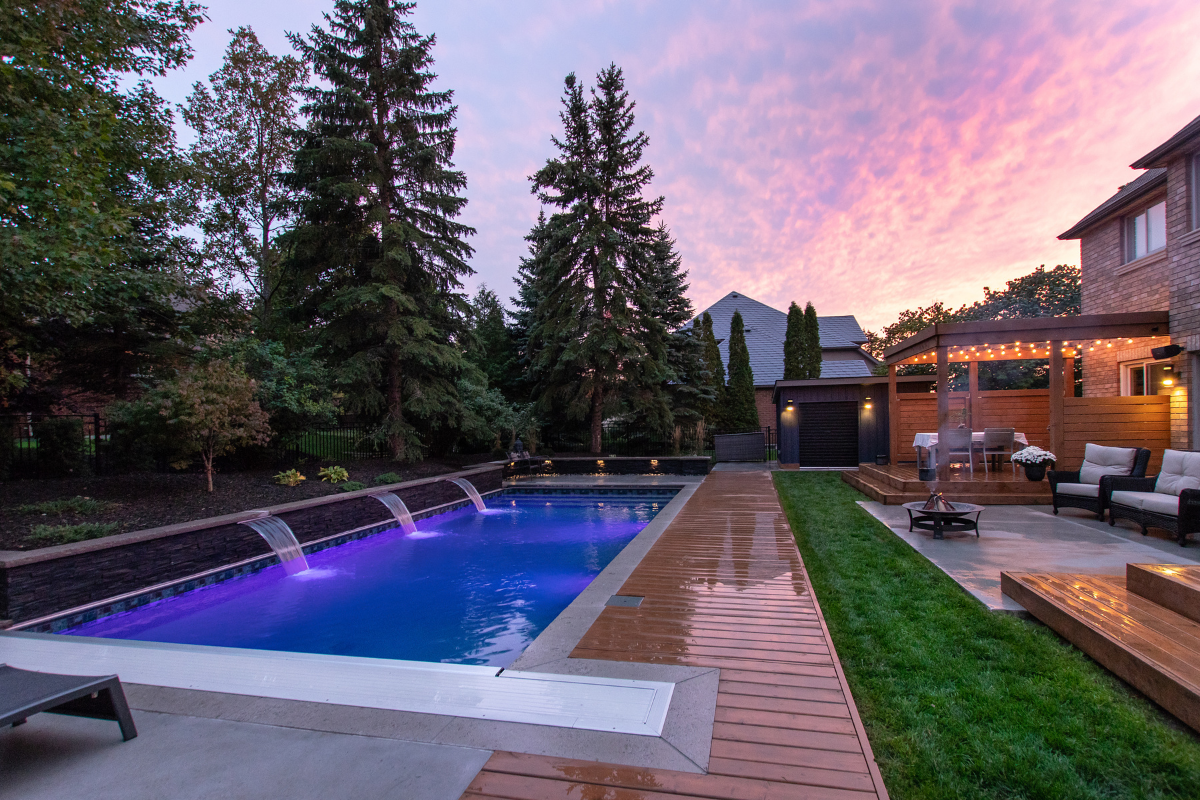 Water features can be lit up, too, and look excellent at night. Turn your backyard into a tranquil space, and if you have a pergola, don't forget some string lights.
String Lights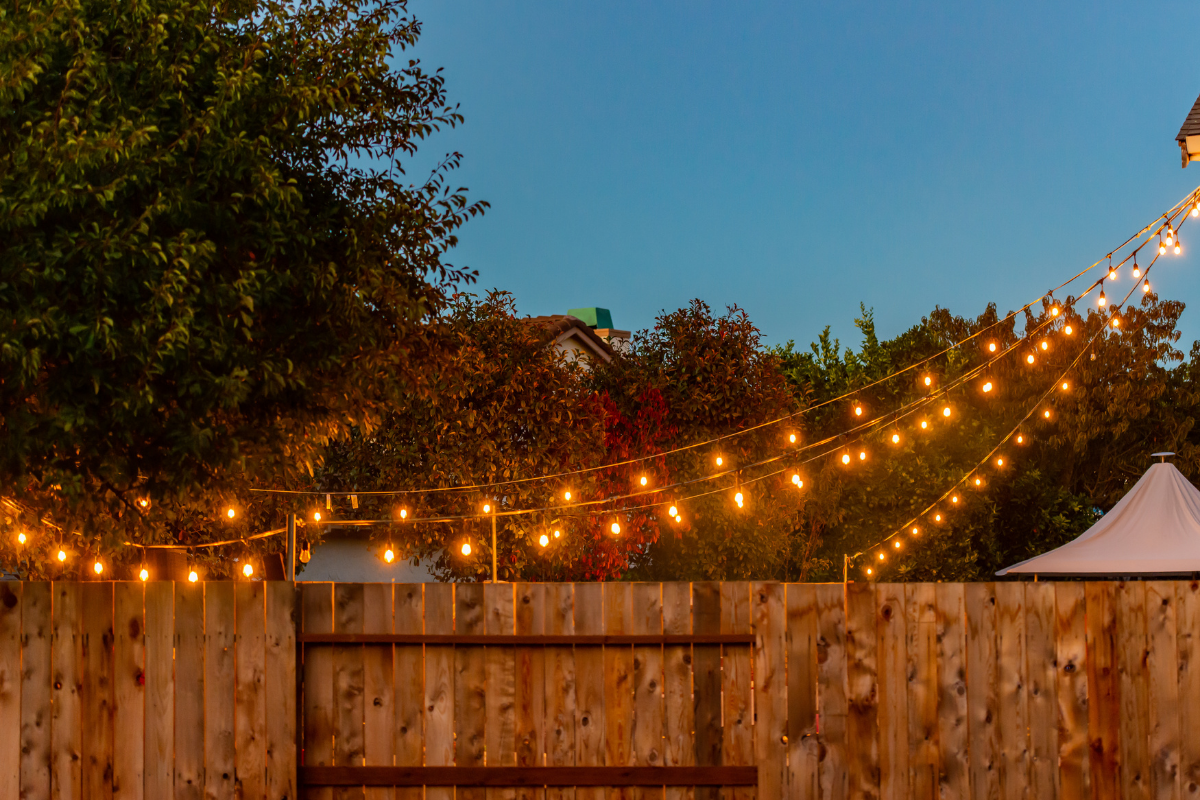 While we are on the subject of string lights — these backyard beauties are perfect for someone that wants some decorative lighting but doesn't want to bring in the pros. String lights will plug in or can even be solar operated. String them from your fence, around trees, or under pergolas and gazebos.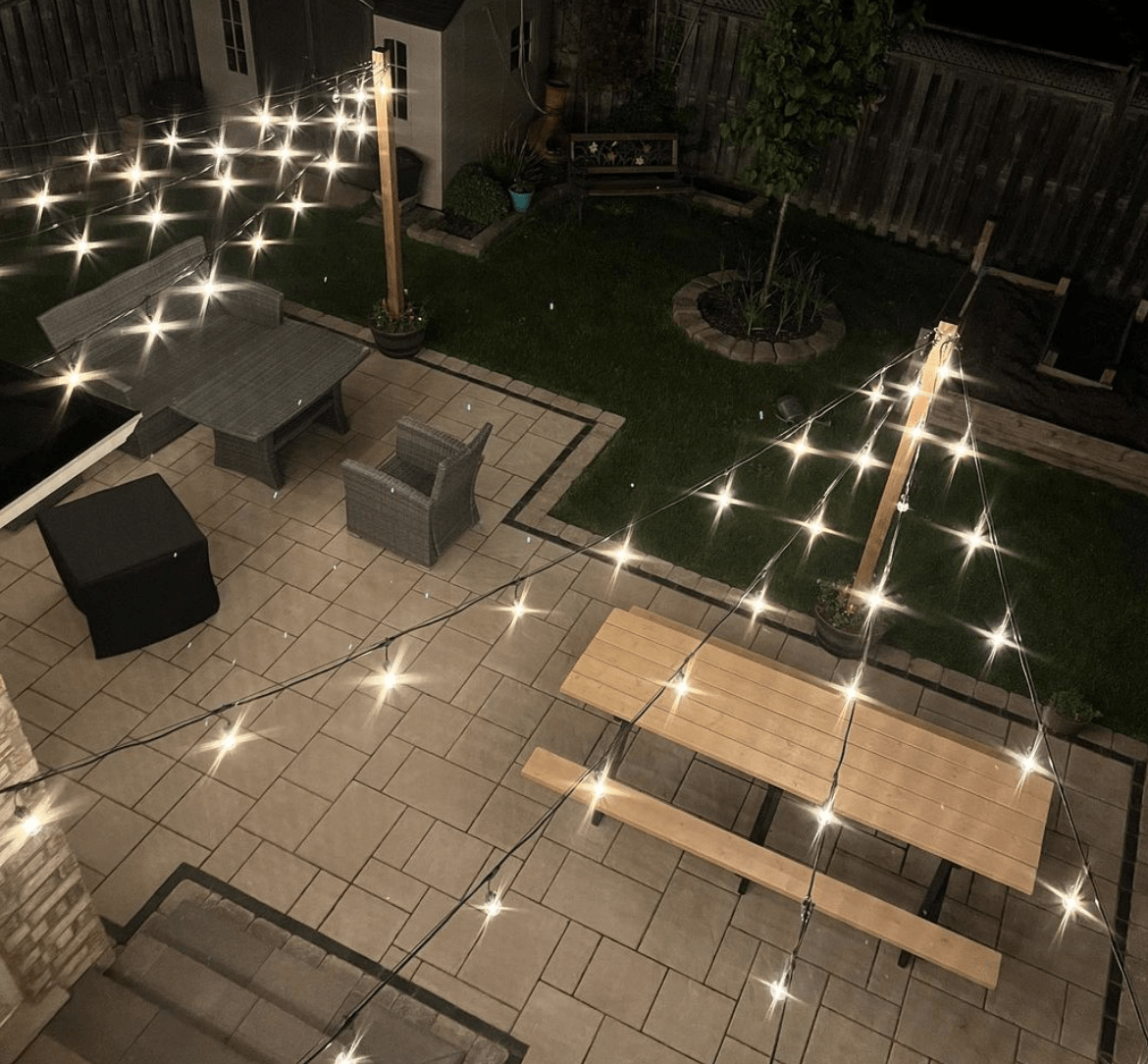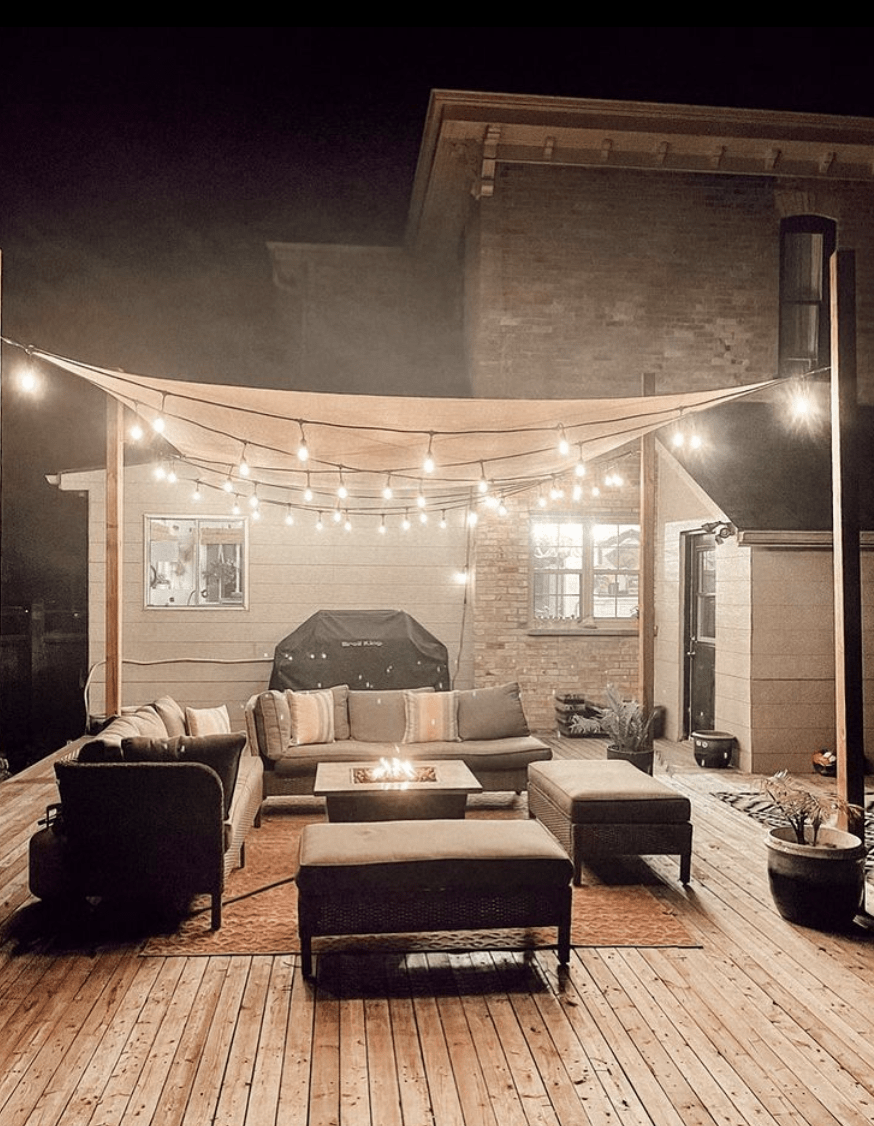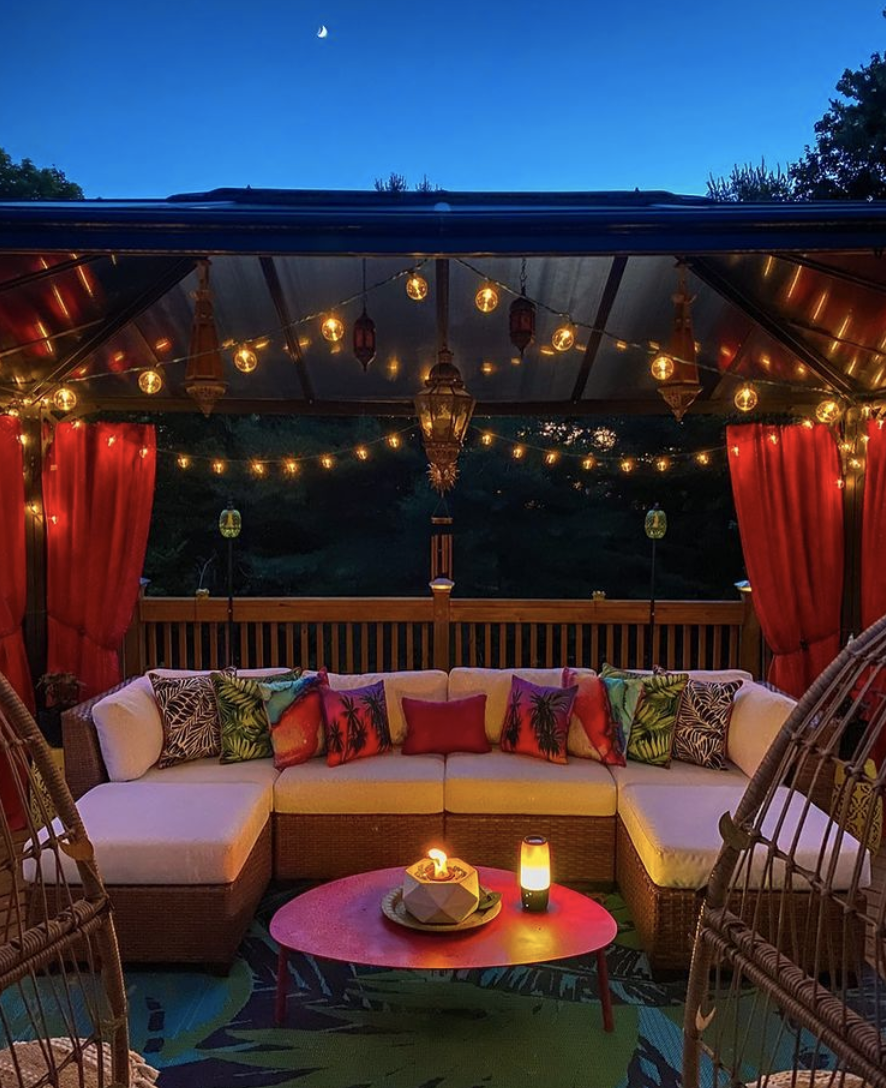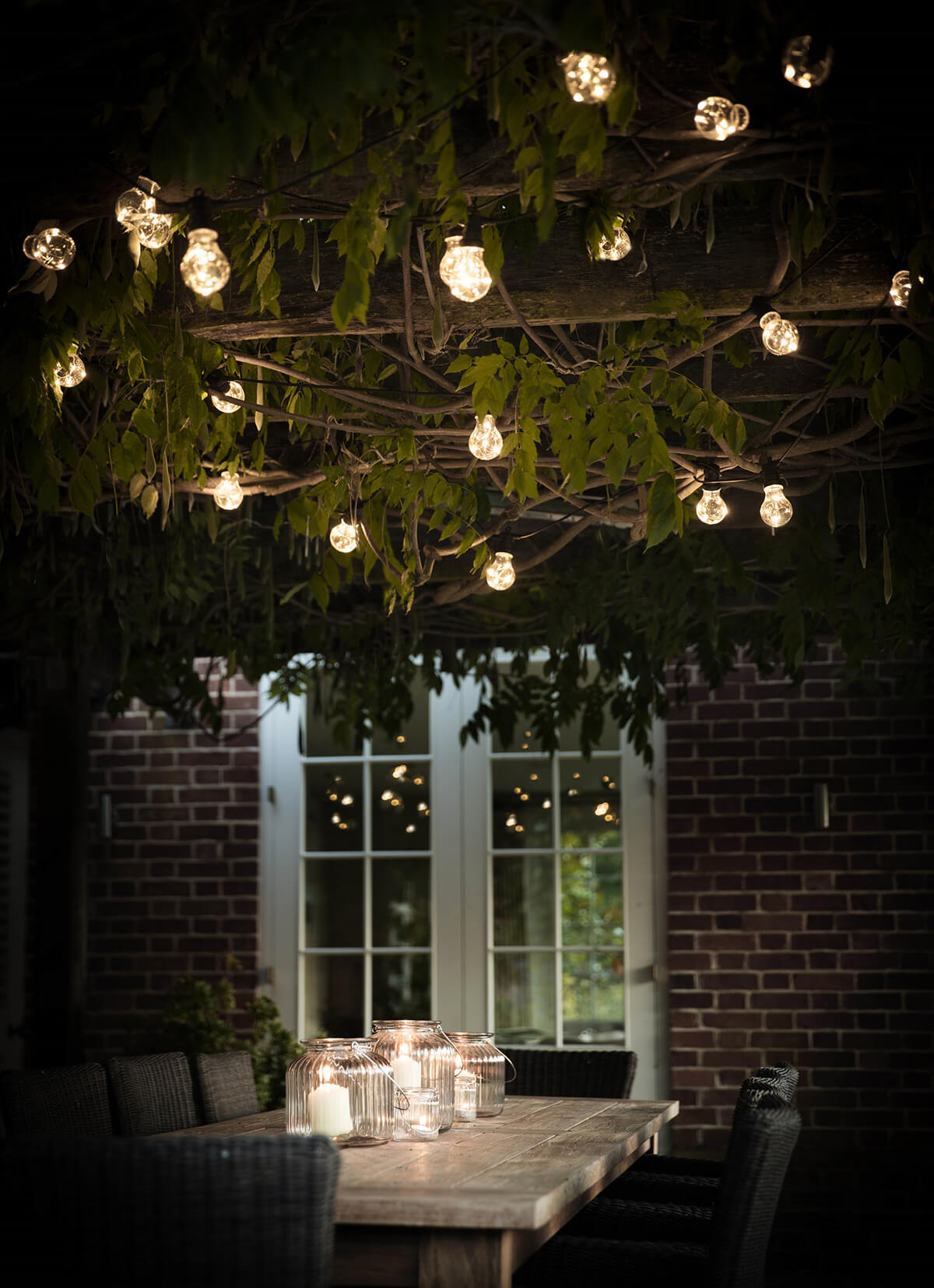 Lanterns
Portable outdoor patio lanterns are an excellent choice for those that want to add lighting but don't want to go through the hassle of electrical work. Choosing patio lanterns for your backyard or patio doesn't have to be complicated. Even though there are several styles and choices on the market, you will indeed find something that will suit your taste.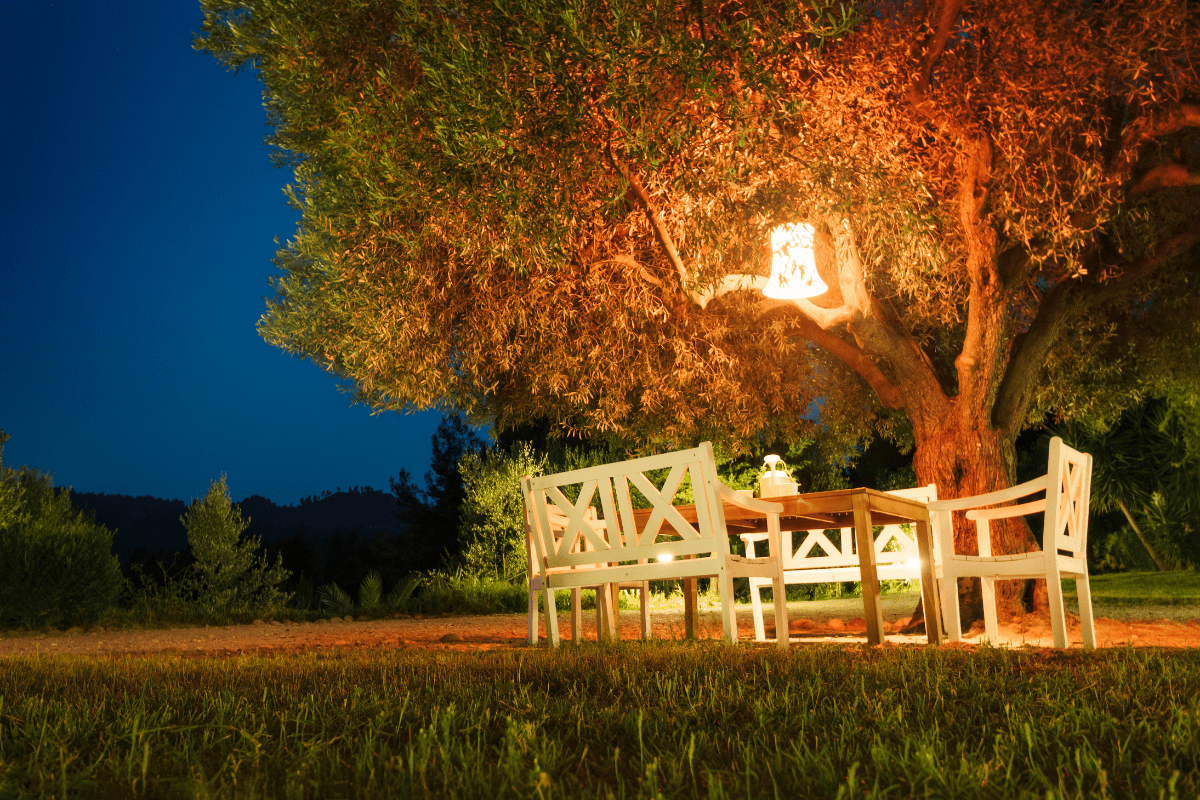 Make great use of lanterns in your back or front yard. You can get hanging lanterns that you can hang from trees to light up an outdoor dining space.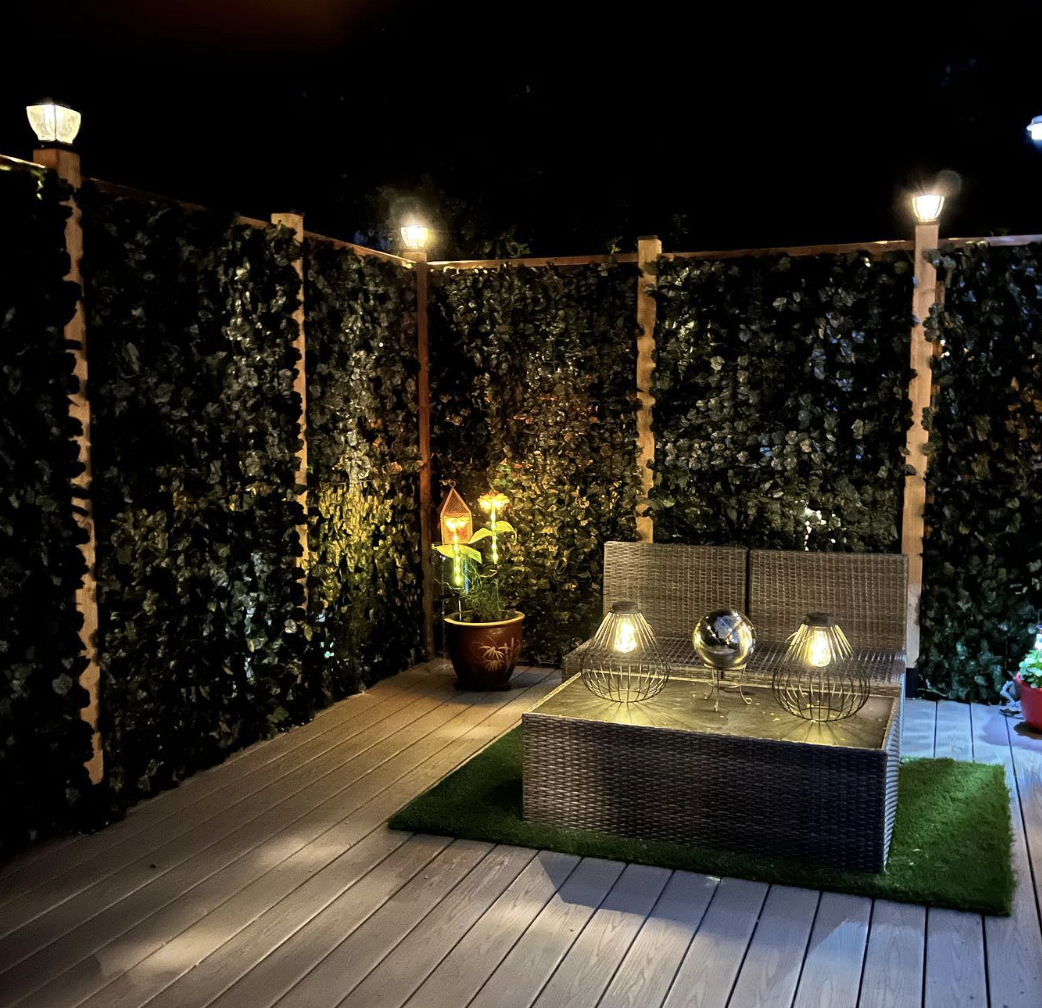 You can set battery-operated lanterns on tables or, like pictured above, set solar lanterns on top of a privacy fence. This is an excellent idea for someone who needs more privacy but wants to light up their space.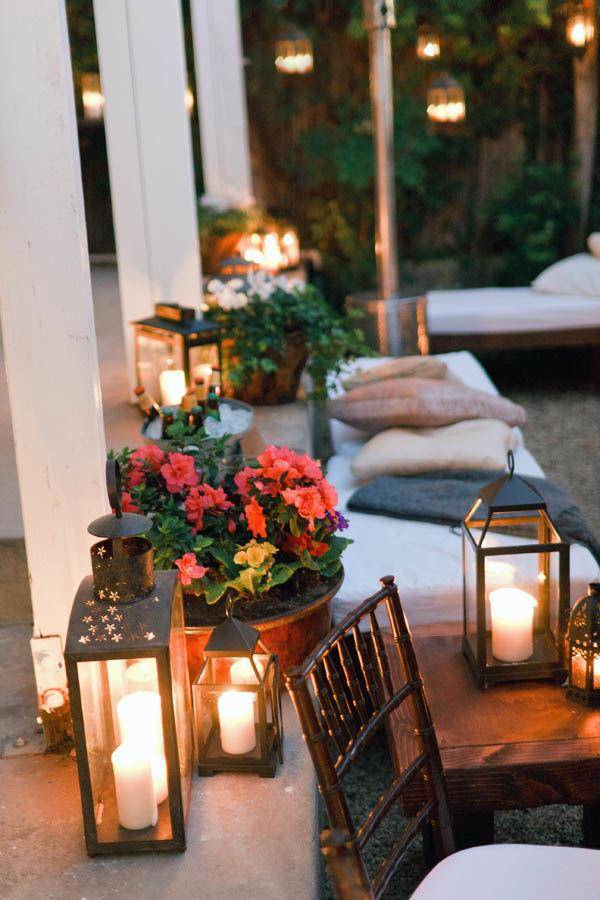 Light Up the Top of the Fence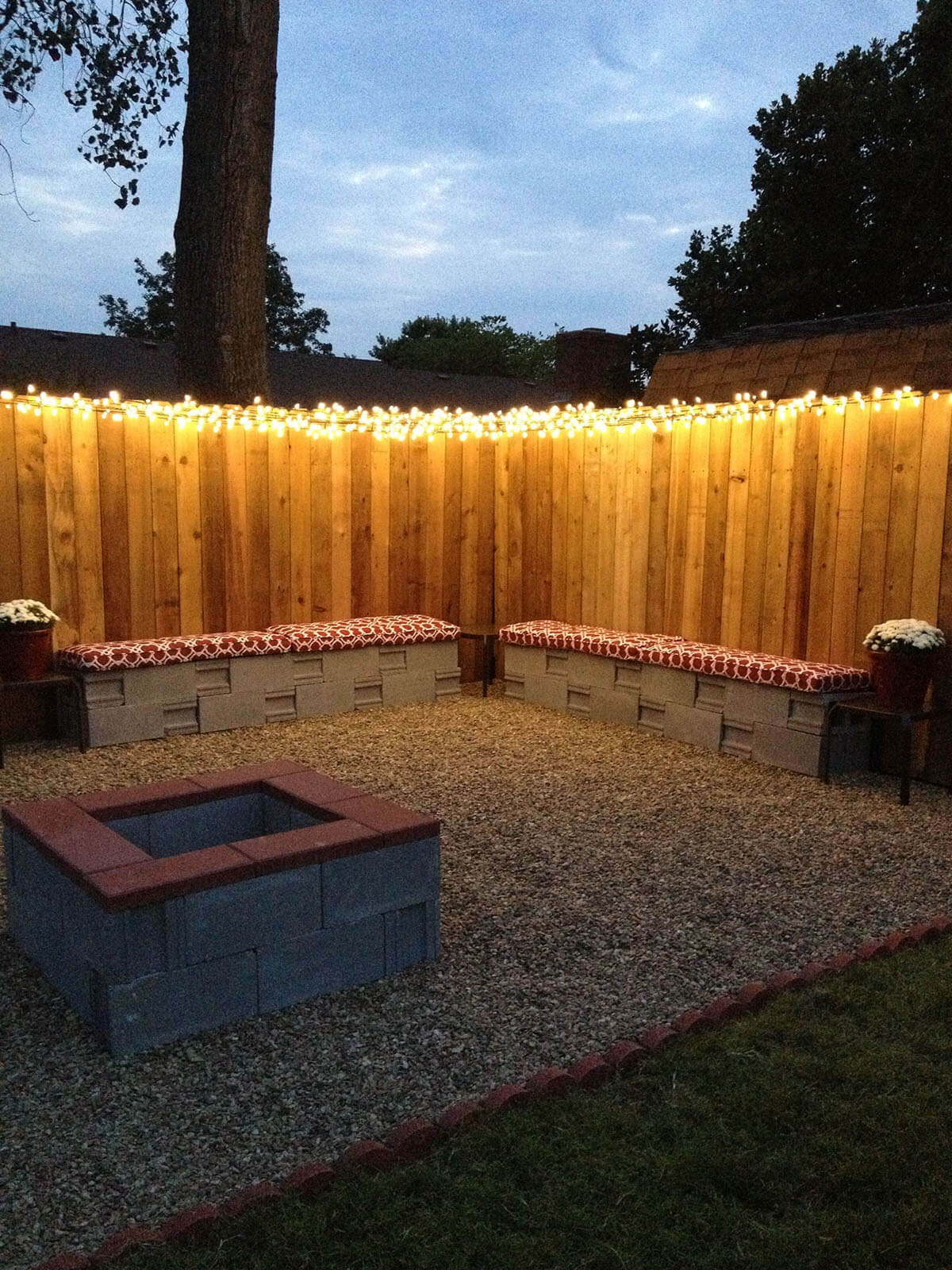 Really light your way with garden stones that shine light up and you can work them directly into your path.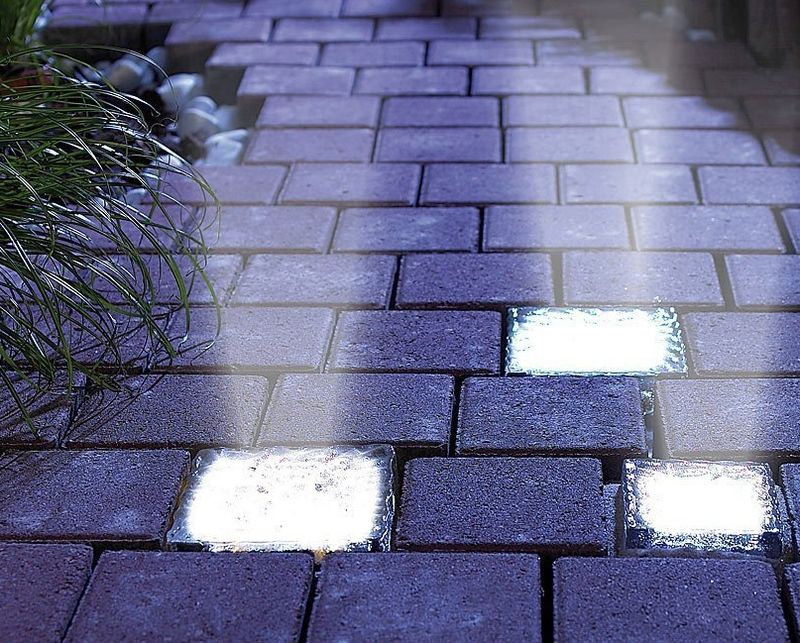 Log Lights
Split logs make great materials to use for your own custom DIY lighting.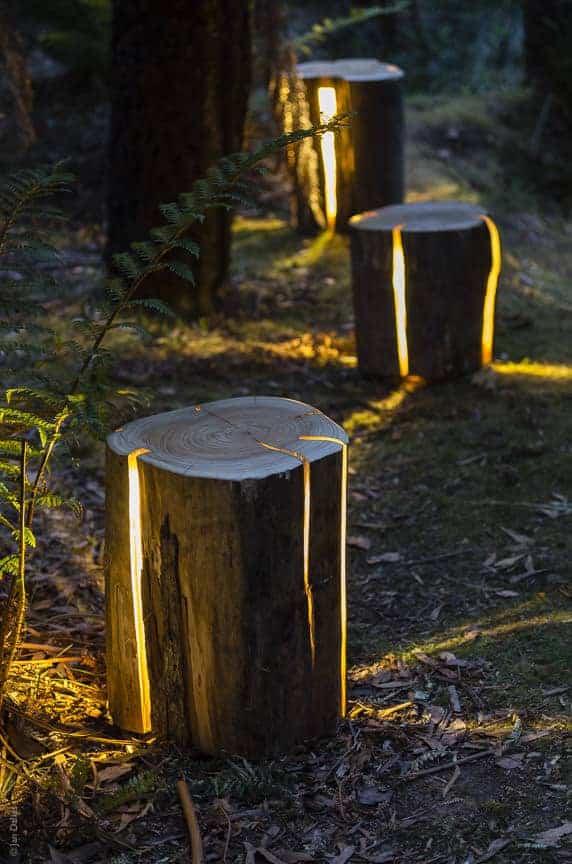 Simple String Lights
You don't have to have a pergola to use string lights. You can see here in this beautiful yet simplistic backyard set up the string lights add an uncomplicated and elegant touch.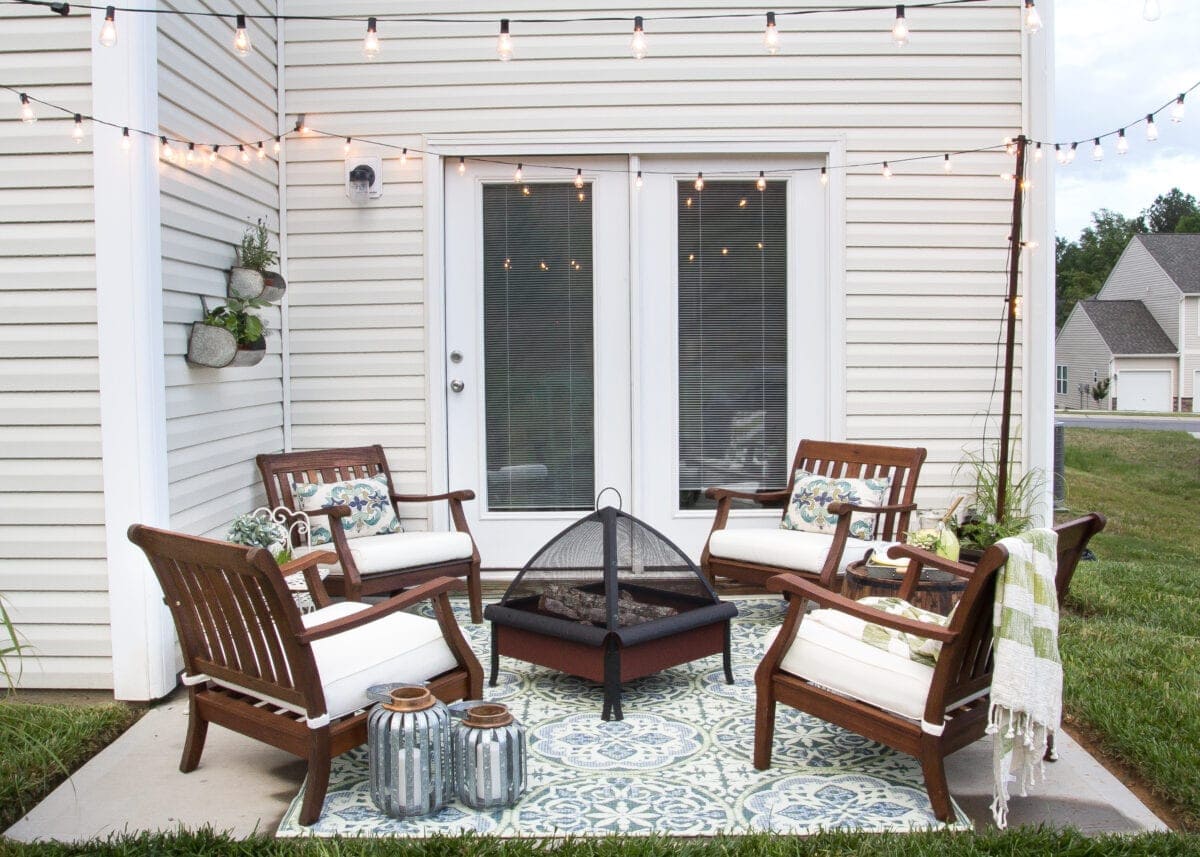 Photo from: Bless'er House
Hoop Fairy Lights
Illuminate a garden path or walkway with a stunning display of hoops covered in fairy lights. This is great for backyard events and parties or all year round for a pretty display that you can enjoy.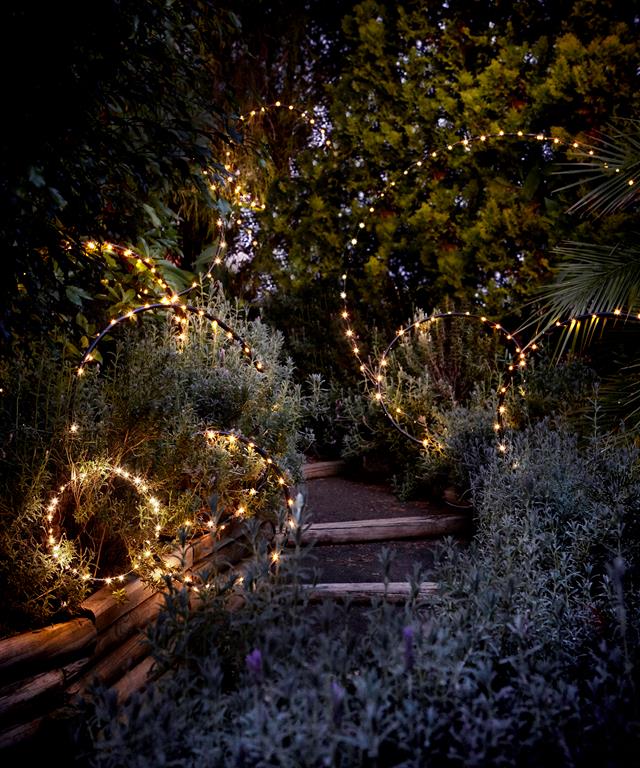 Quick and Easy Lighting Solutions
If you're not overly handy and don't want to dabble in electric work, don't despair because there are tons of quick and easy lighting solutions for the back or front yard. Many of these solutions are achieved by just setting the lighting down or hanging it up.
Solar lights are great solutions for anyone who doesn't want to worry about messing around with electricity, and they come in various forms and styles.
Mason Jar Lights
Mason jar lights are quick and simple DIY that even an inexperienced DIYer can do. Open a mason jar, toss in some battery-operated fairy lights, and then hang them from garden hooks around your patio.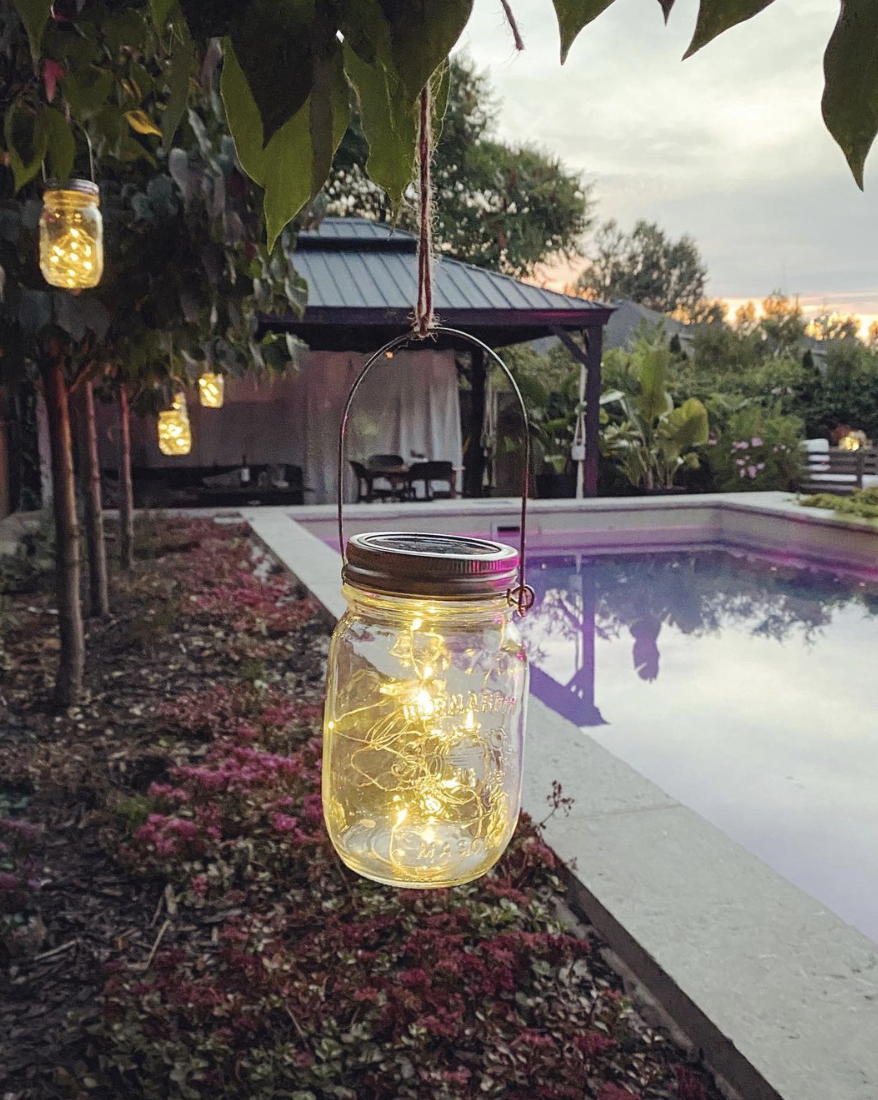 Use an old metal tire rim and some mason jars to make an eclectic hanging outdoor chandelier.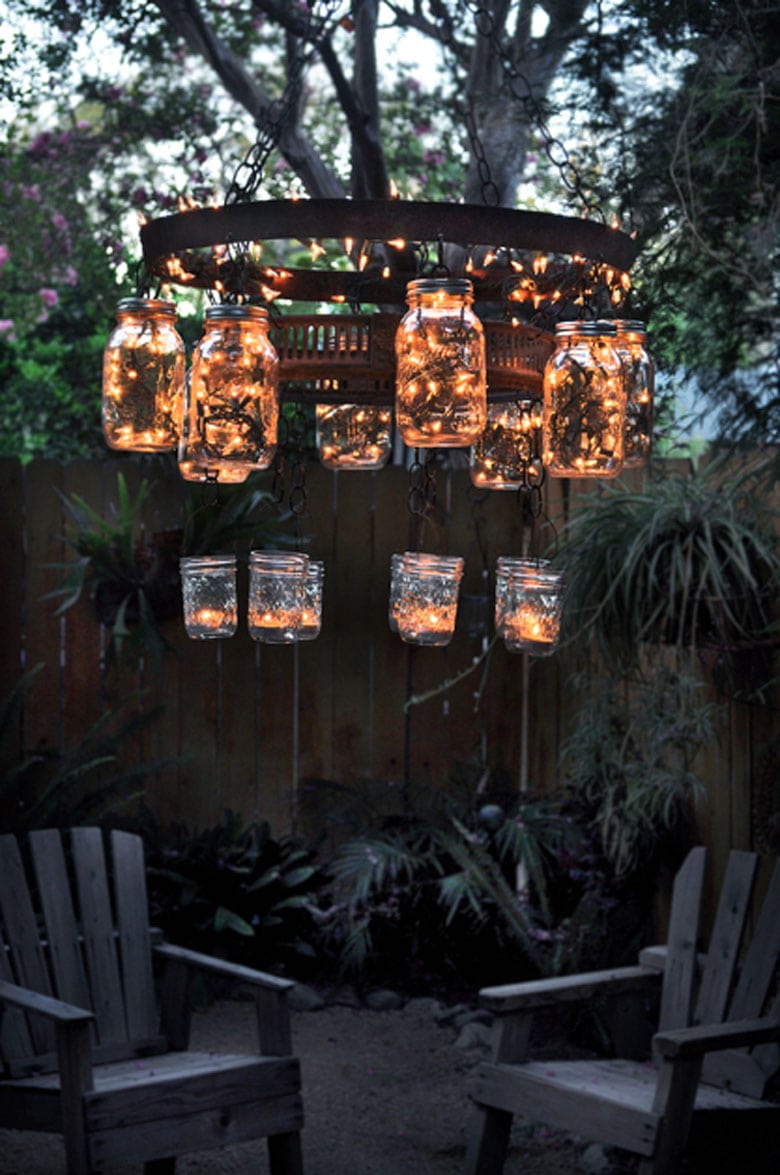 Tabletop Fire Bowl
A tabletop fire bowl is an easy solution for some backyard lighting and provides warmth and comfort on cooler summer nights.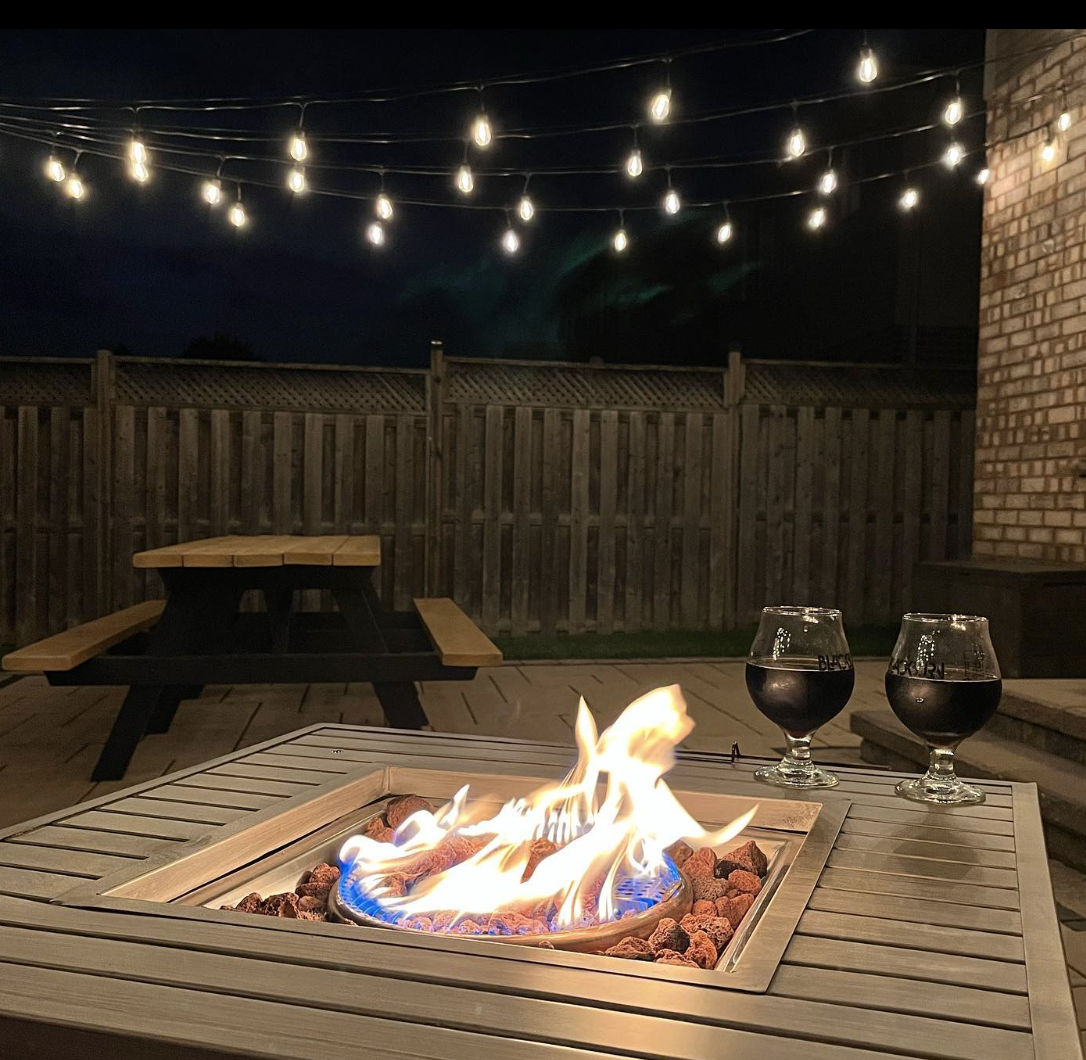 Hanging Grapevine Lit Balls
String some battery-operated lights around some grapevine balls and then hang them from trees for this stunning nighttime lit-up display.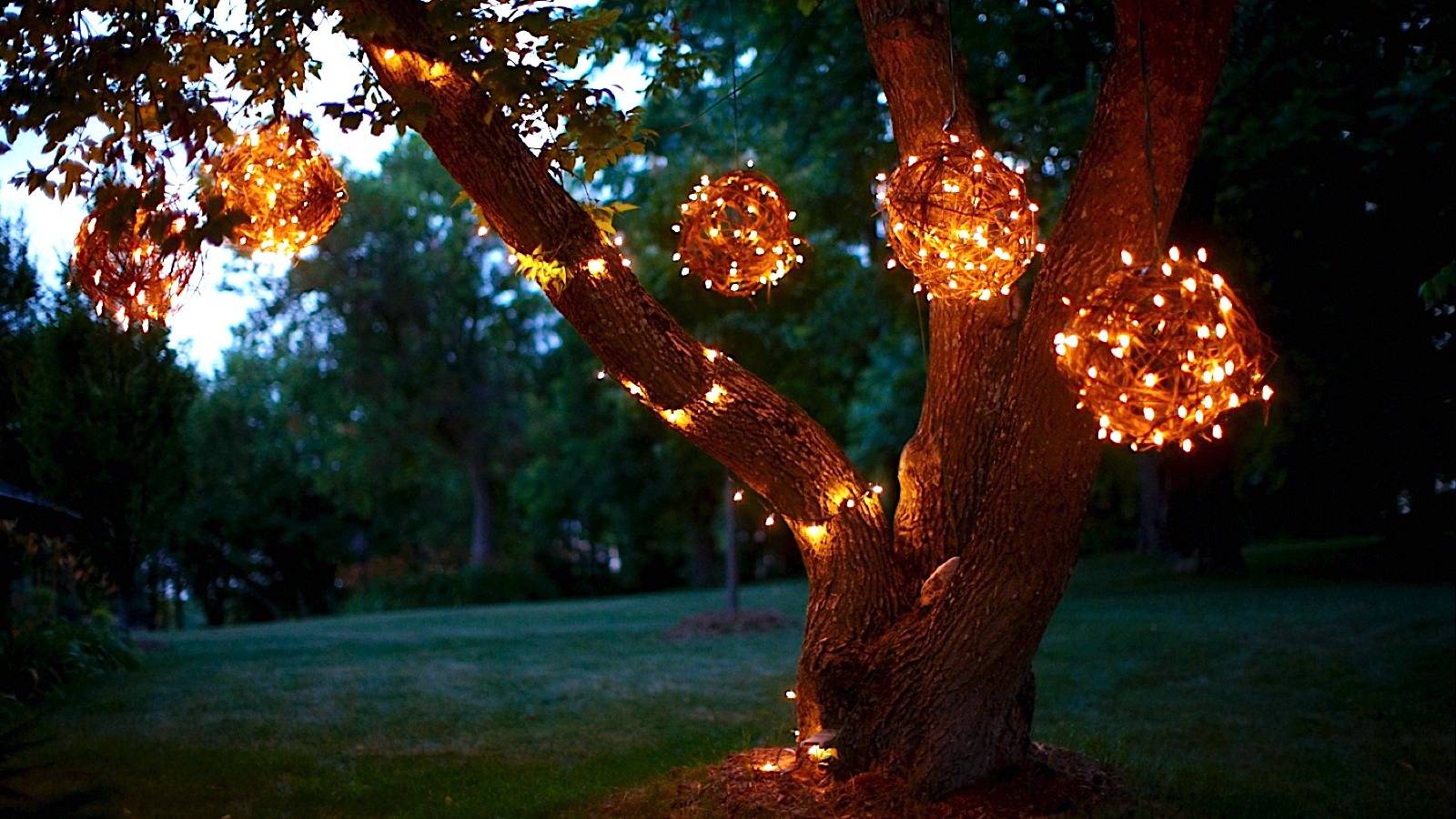 Rocks With Solar Lights
These lights are a super simple buy and place product that you can work in all-around your gardens and patios.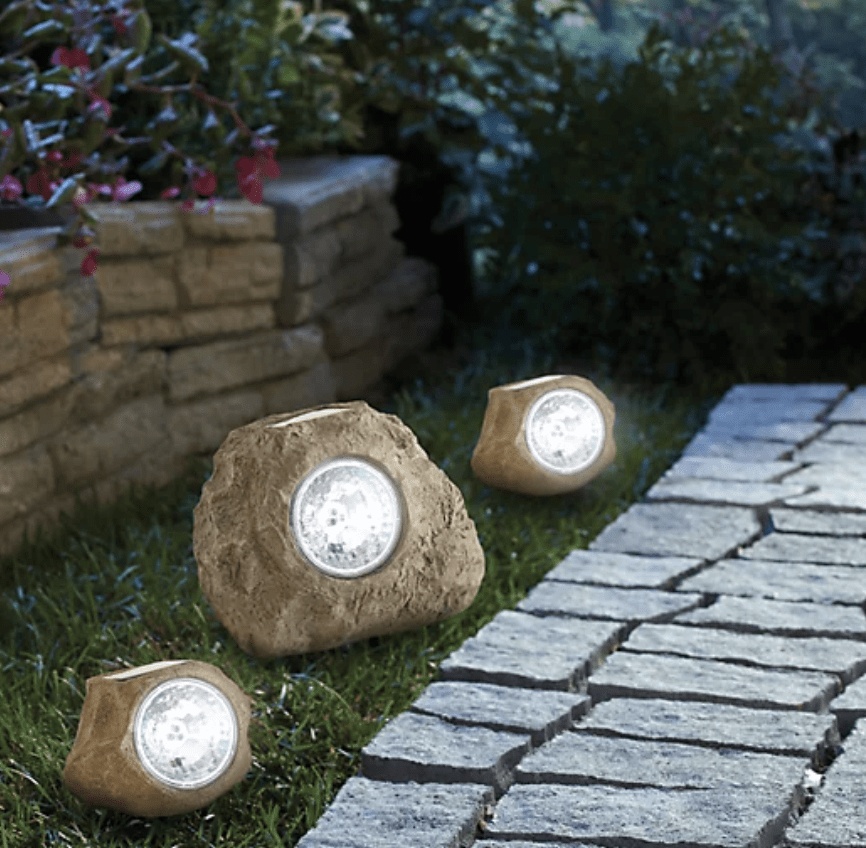 Illuminated Planters
Another great item that you can buy and place for a bit of yard lighting is illuminated planters. These come in several different shapes and sizes, so you're sure to find something that will suit your taste.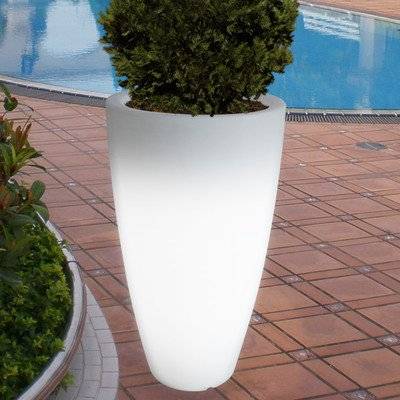 DIY Teapot with Fairy Lights
This DIY feature would look amazing in an English garden amount beautiful blooms and lush greenery.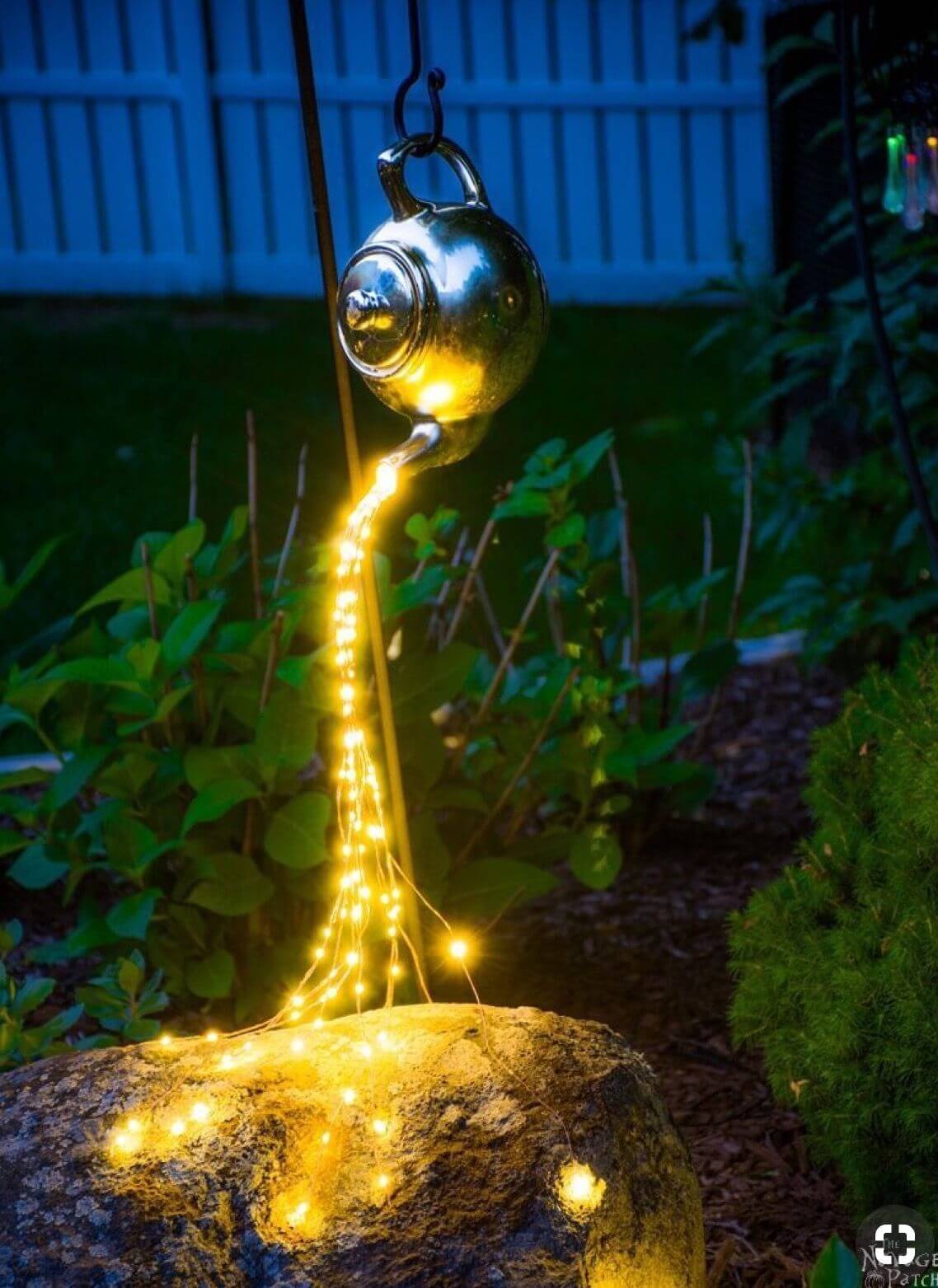 Tin Can Lanterns
A super affordable and crafty lighting solution for the backyard is these tin can lanterns. They are so easy to make and you could make a whole bunch of them to fill your backyard. Great for those working on a budget!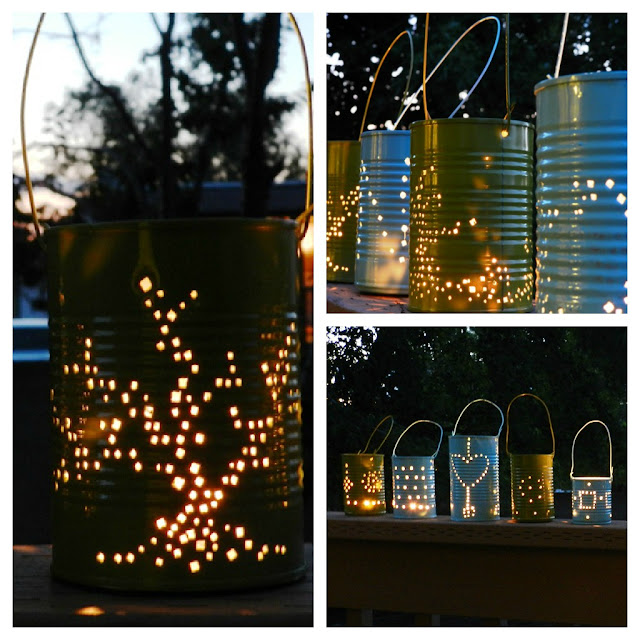 Patriotic Luminaires
Go patriotic with your landscape lighting. This fun mason jar luminary idea is great for the 4th of July. Also, you can take this idea and use it for whatever other holiday or occasion you want to decorate for.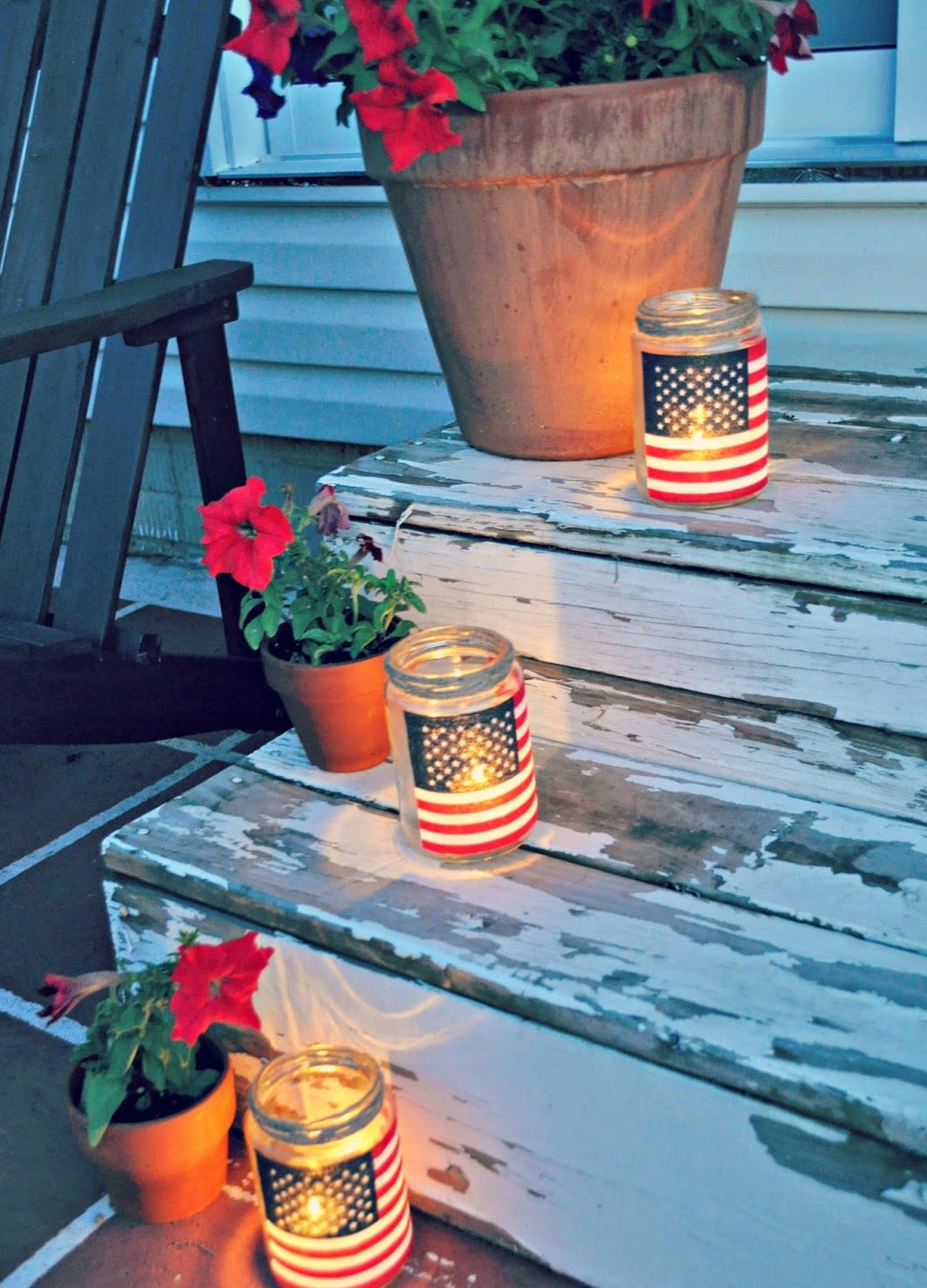 Ladder Chandelier
To perfect your outdoor dining space, you could easily recreate this ladder chandelier.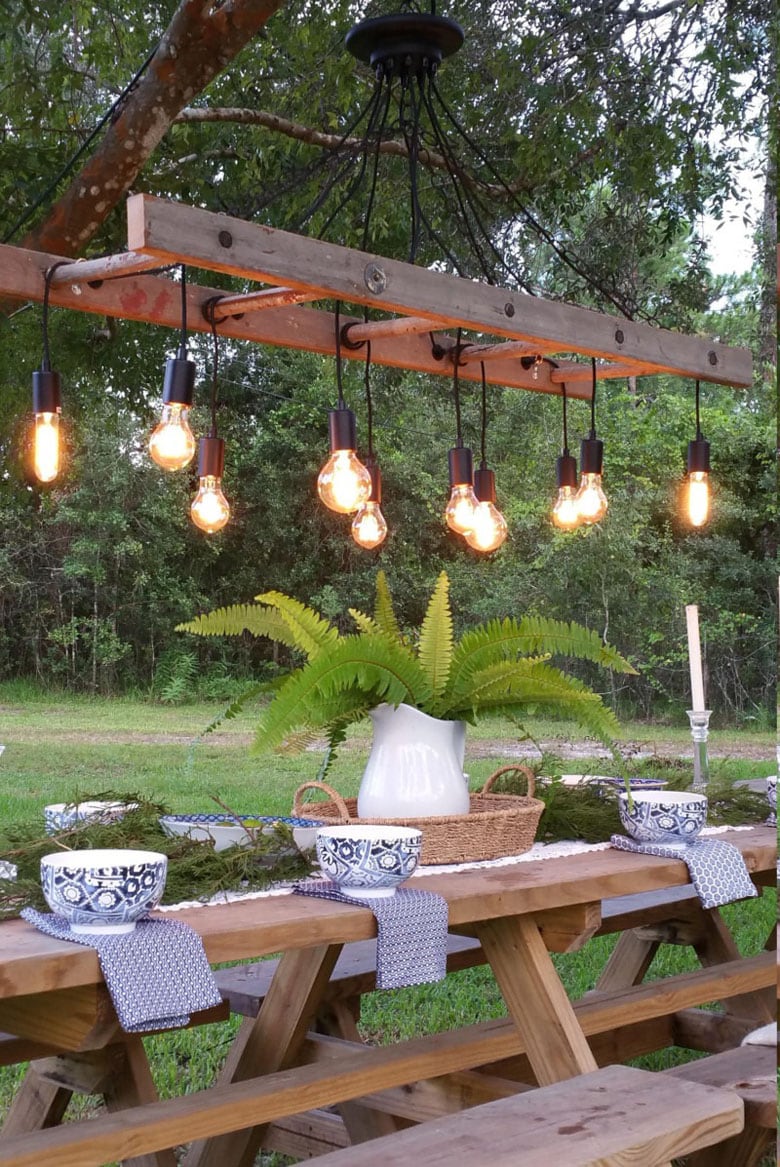 Rope Light Sign
Light up an outdoor hot tub space with a DIY rope light sign. You can get rope lights super cheap of sites like Amazon and then you can arrange them into any word that suits your space.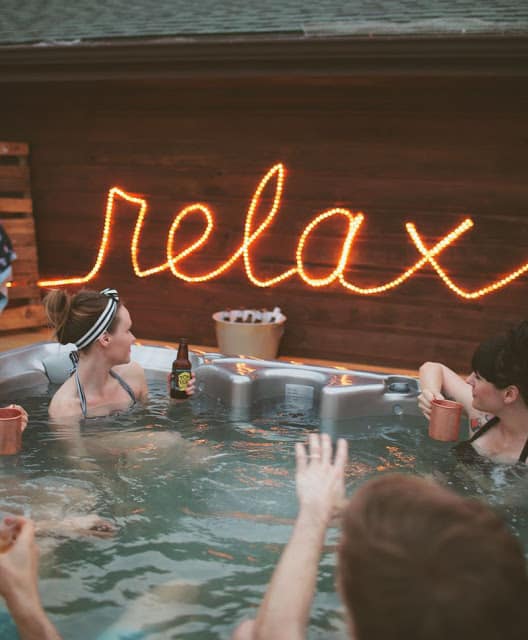 Rope lights can be used as just ways to border around things in your landscape as well. Try lighting up a path garden's edge with rope light.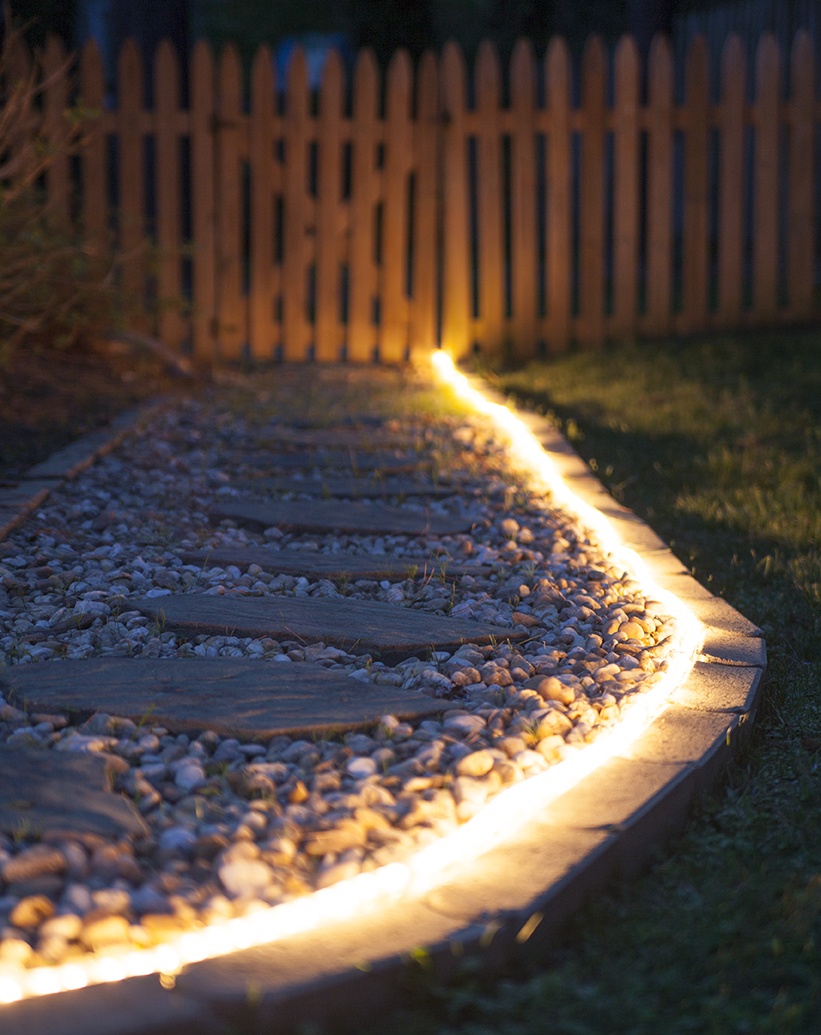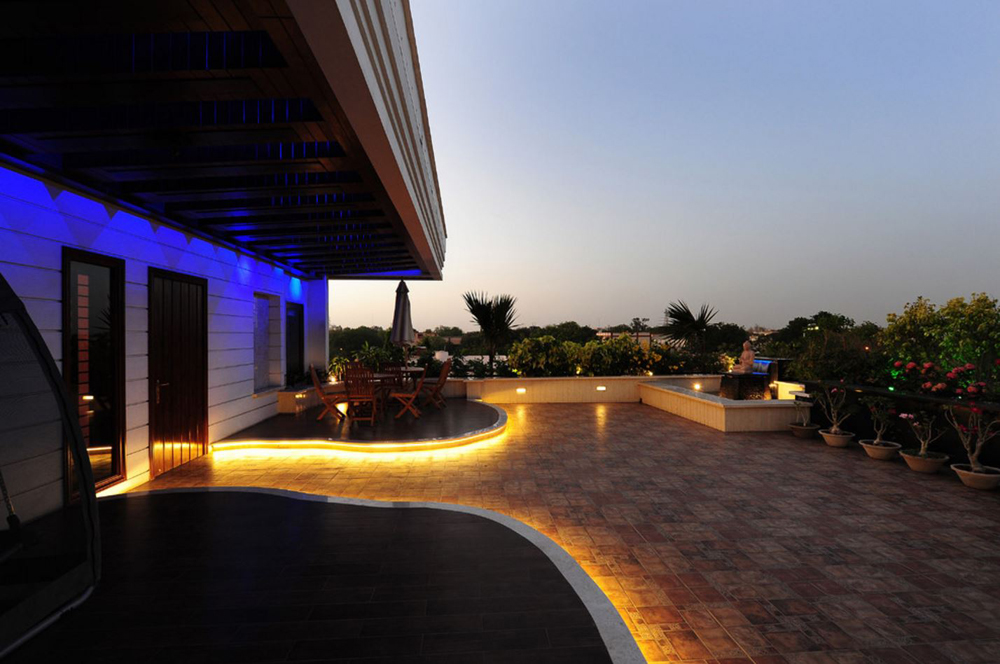 Light up Paper Lanterns
While these may not hold up in areas where you get a lot of rain, you could certainly use them under a covered patio or deck or for one-time events or backyard celebrations.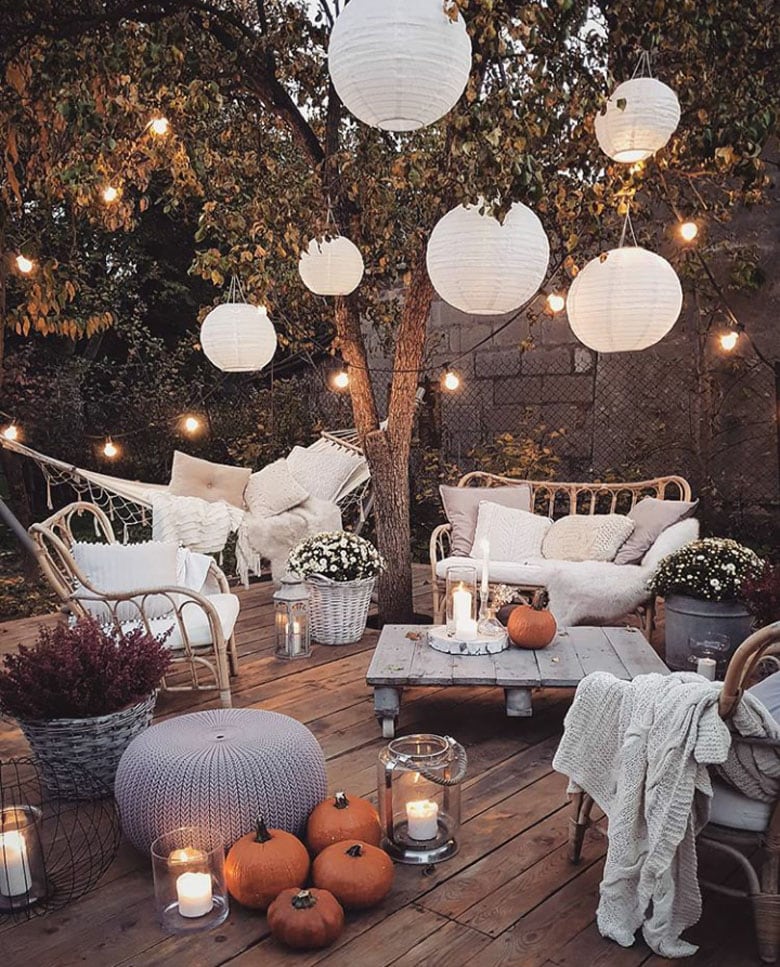 Best Tips for Landscape Lighting
Come up with a lighting landscape plan – even if you plan on doing the lighting yourself, you can always have a professional help you with placement and design if you are unsure where to start.
When making your plan, you may find it helpful to sketch your yard quickly.
Consider landscape lighting trends – what is in style and trending?

Portable lighting – lighting that can be moved around and isn't fixated in one place. Many of these options can also run off smart technology so that you can program timing from your phone.
High-end fixtures that look like fancy indoor lighting – it's become increasingly popular to have lighting outdoors that looks like interior fixtures. Chandeliers under gazebos and patios look stunning at night over an outdoor dining area.
Color-changing lights – the ability to change the color and hue of your outdoor lighting is excellent for different seasons and holidays.
Moonlighting –  Moonlighting is downward-facing floodlights that are meant to mimic natural moonlight. It is often placed high — about 20' to 25' — in a tree to cast dappled light through its canopy.
Hardscape lighting: Outdoor living spaces have become increasingly popular. Outdoor kitchens, fireplaces, and living spaces are on the list, so integrating lighting into and around these areas makes perfect sense. Hardwiring the hardscaping as it is being built is the most ideal, but if that's not an option, one can always retro-fit low-voltage and solar lighting afterward.
Frequently Asked Questions
FAQ
How do you light a landscape?
While there are no set rules for lighting a landscape, you can follow guidelines and advice. Before deciding where to place landscape lighting, think about the best areas in your yard that you want to highlight. Do you have pretty trees or shrubs that would look lovely lit up at night? An outdoor feature like a fountain or garden art that you want to illuminate? Once you figure out what you want to light up, you can look into the how.
So give some thought to what you will light up before you head to your local home improvement store to shop for outdoor lighting.
How do I light my front yard?
The best way to light up your front yard is to ensure that you have bright exterior lights on the side of your house. Good spots for these lights are on either side of the front door and garage doors. If you have a porch, you can also install pot lights on the ceiling of your patio.  Low-voltage landscape lighting is effortless to install and uses less energy than other systems, making it a good option along a driveway. Steps can also be lighted, which is also great for safety.
What is the best color for landscape lighting?
Warm white is the best color for landscape lighting. It is the most preferred color temperature for landscape lighting because, psychologically, it is thought to be more welcoming and soothing compared to higher color temperatures.
How can I light my backyard at night?
Get creative with your backyard lighting for nighttime. You can have fun with this job. You can uplight trees to create a moonlight effect, illuminate your walkways, or sprawl light orbs across your fence. Another great lighting option for night, especially if your having late parties, is to light some tiki torches.
How far apart should landscape lights be placed?
The best distance for landscape lights is eight to six feet apart. While there are no set rules about landscape lighting putting lights closer together than six or eight feet gives off the appearance of a runway and may have your backyard looking like an airport.
Are pathway lights tacky?
When placed too close together, pathway lights can most definitely look tacky and like a runway. Less is usually more when it comes to pathway lights, so if set correctly, they can look quite nice at night but make sure they are placed at least eight to six feet apart like mentioned above, and get creative with your placement. Staggering the lights on either side diagonally across from each other rather than directly across and symmetrically will help you avoid the runway look.