Bathrooms can feel sterile and dull, so adding color can make a significant improvement. With so many soft colors to choose from, you can turn the space into the ultimate spot for relaxation. In this post, we feature a selection of soothing paint colors that convey spa-like vibes to your bathroom. You are sure to find your new favorite! 
Yarmouth Blue by Benjamin Moore
A bathroom is a place meant to provide utmost relaxation after a long day. Accordingly, the color choice should support tranquility and create a calm atmosphere. Blue is known for lowering the heart rate and decreasing blood pressure, so it is an excellent choice for the bathroom. Yarmouth Blue by Benjamin Moore is a gorgeous light tone that will open up the space and make it feel airier. The light cyan color adds a touch of freshness that looks especially nice against marble. The result is a luxurious bathroom that feels more like a spa.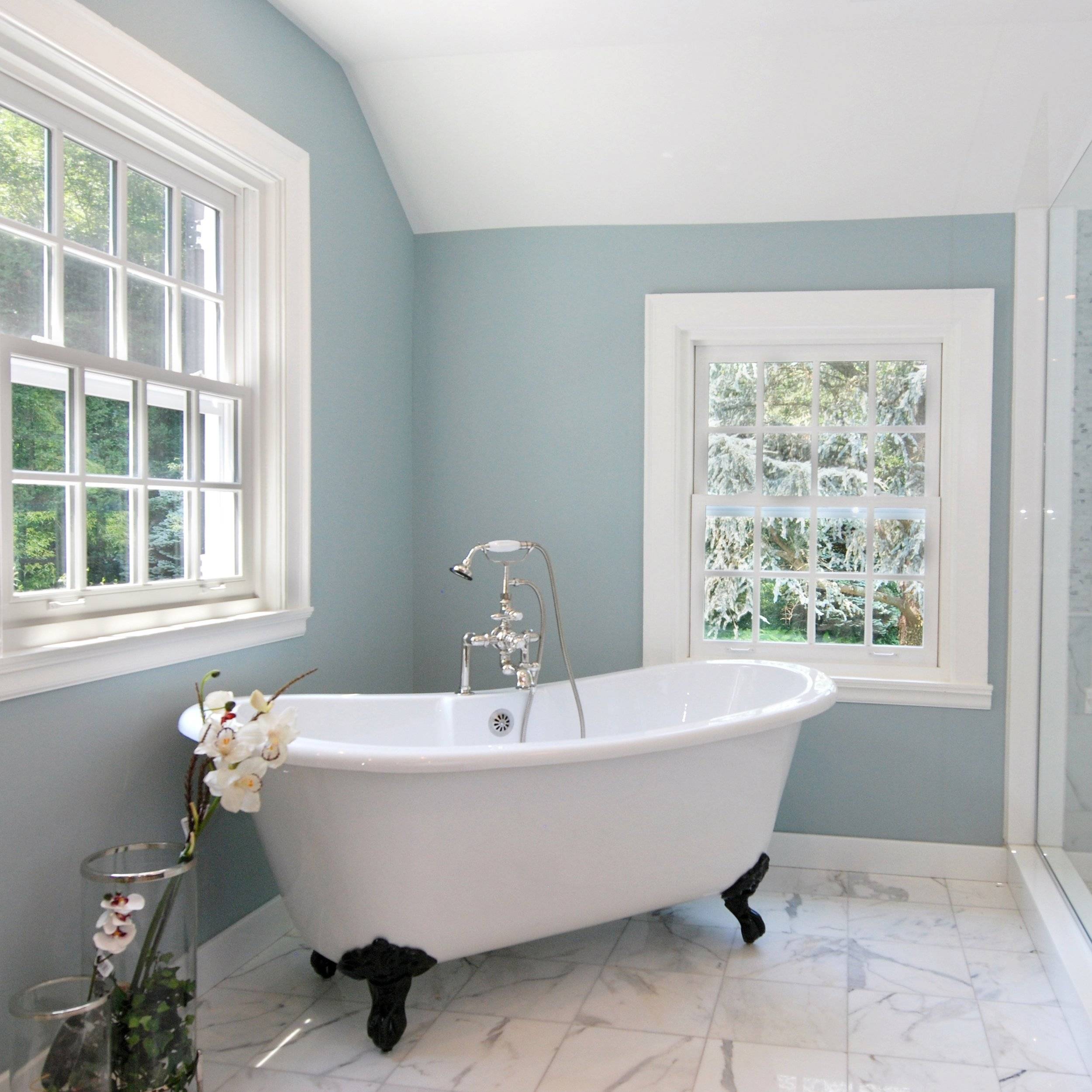 Charcoal Slate by Benjamin Moore
Charcoal Slate is a gorgeous deep gray color that brings sophistication into the space. The tone is neutral and grounding, creating a serene atmosphere for peace and relaxation. The dark color adds depth while being versatile enough to flatter a wide range of styles. The white tiles give you plenty of freedom to experiment with, so the deeper tone will provide a gorgeous contrast while keeping a modern vibe.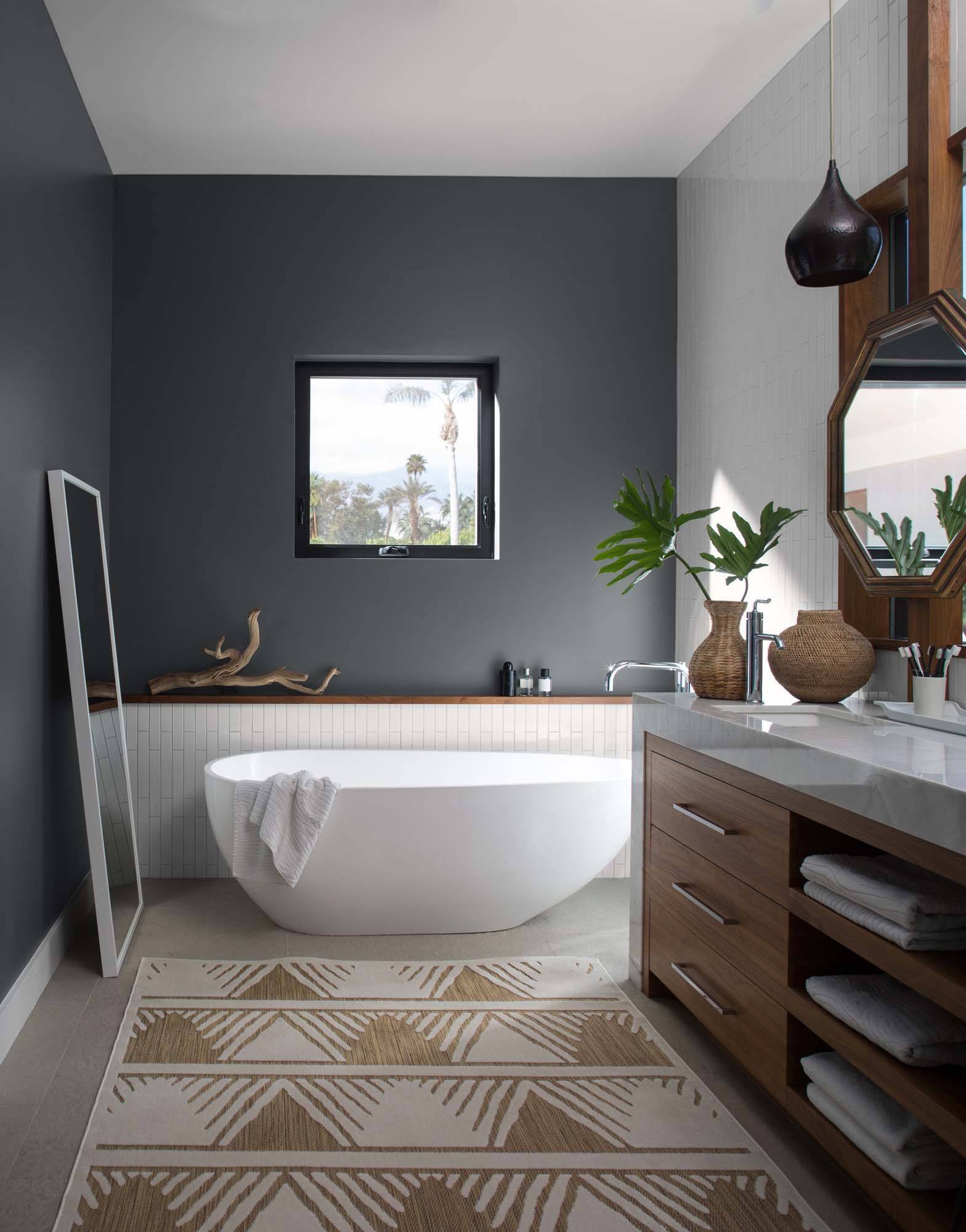 Pineneedle by Pantone
Green is associated with peacefulness and serenity, so this color would make an excellent choice for soothing and relaxing spaces. If you want the color to convey tranquility and luxury at the same time, Pineneedle by Pantone is the right choice for you. The intriguing deep green tone feels calm and soothing while making a stunning statement. Complement with faux wood tiles to bring a natural feel and a sense of warmth.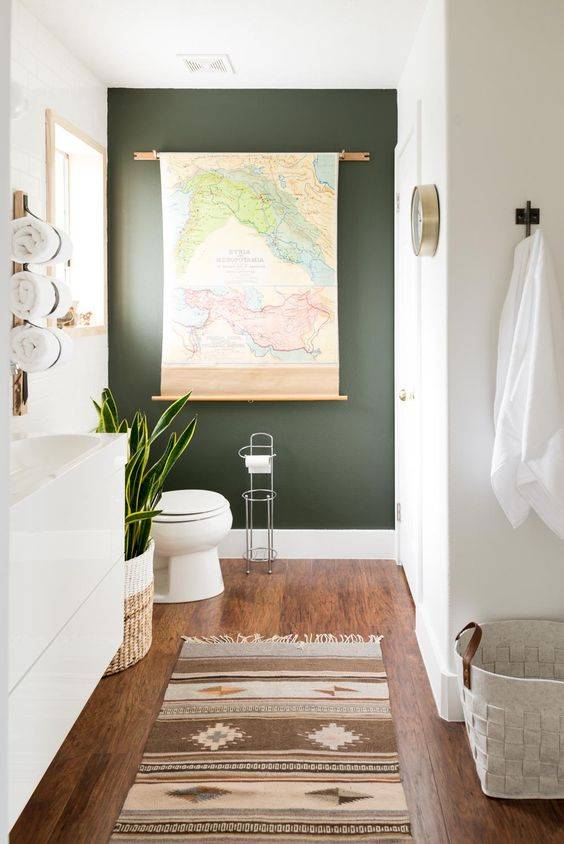 Blue Jean by Benjamin Moore
Blue Jean by Benjamin Moore is a fresh color that conveys elegance and style. The medium-light shade feels tranquil and soothing while making a subtle statement. If you think it might be too much for the walls, you can always use it moderately. For example, paint a vanity in this lovely blue tone to give it a fresh update. We love how the golden hardware and marble countertop complete the look, resulting in an elegant bathroom design with a touch of freshness.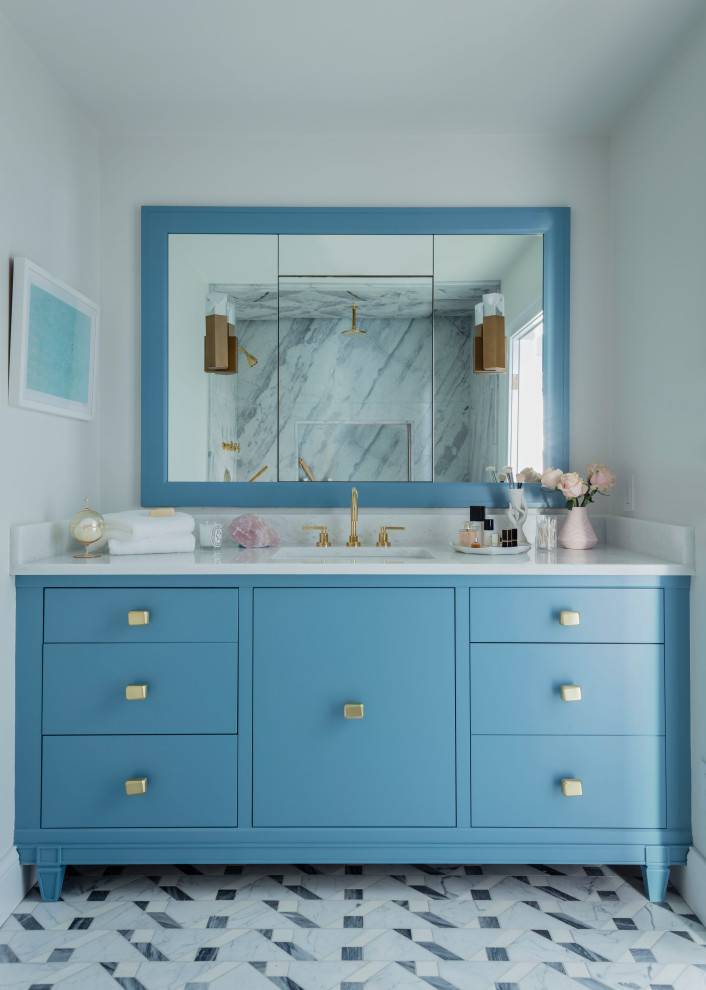 Warm Taupe by Pantone
Warm Taupe is an excellent choice if you want to avoid a sterile bathroom look. The warm tone brings an earthy feel, following the neutral color scheme. The brass hardware complements the gorgeous color, creating a timeless design that won't go out of style. Why not complete the room with intriguing tiles in the shower for a decorative touch?