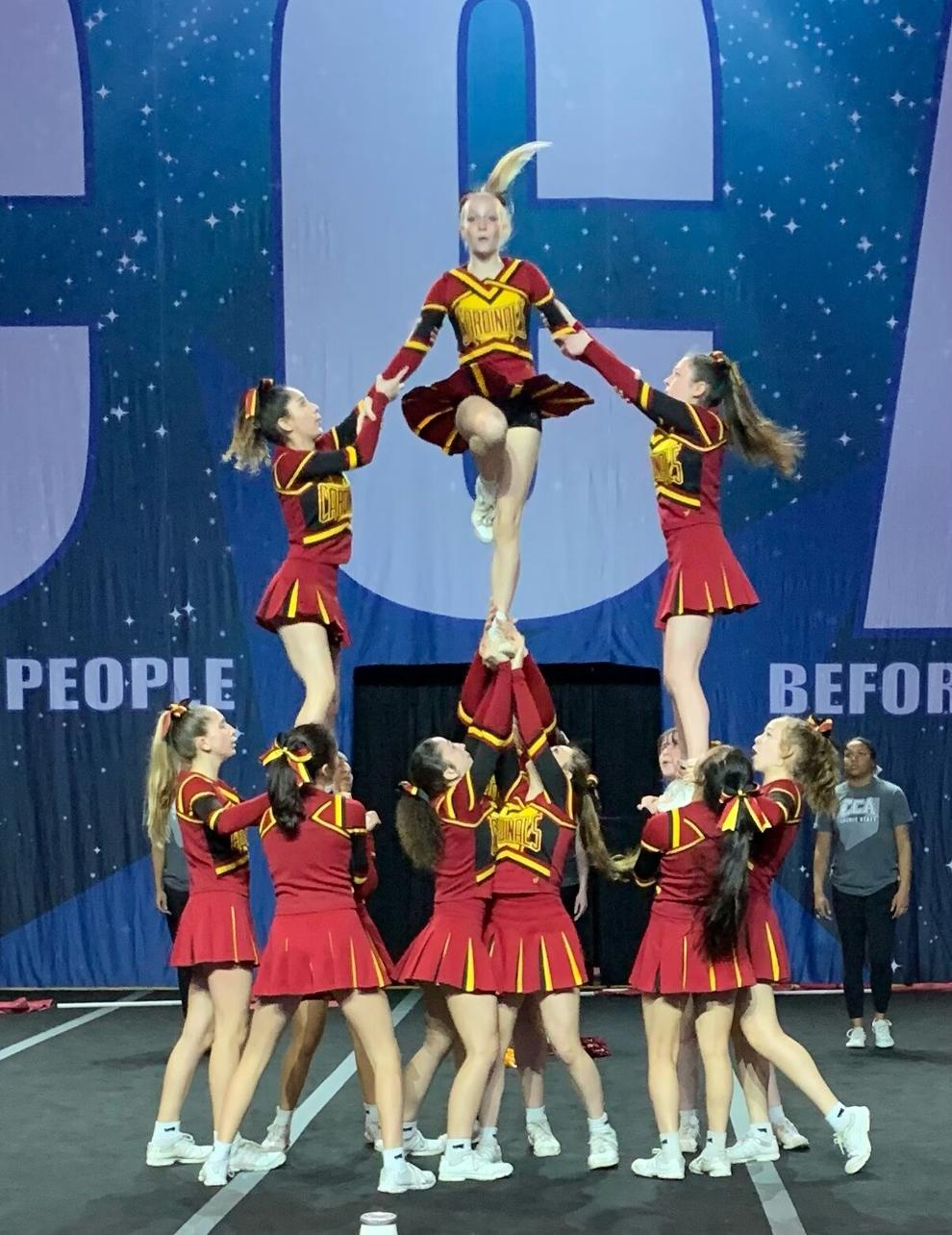 Between pandemic restrictions that canceled last year's season and new recruits with little experience in cheer, the varsity cheerleaders at Bishop Ireton faced a daunting task when stepping up to the mat at the Christian Cheerleaders of America Nationals in Fayetteville, N.C. last month.
For five years running, the Bishop Ireton Cardinals won their division along with the National Grand Champion title at CCA Nationals, which is awarded to the team with the highest score across all divisions. This year, just two cheerleaders at the competition previously competed in competitive cheer, creating an even greater challenge for the 15-person team, three of whom were sidelined at Nationals due to injuries. 
But the Cardinals stuck to their long-running script of success, winning all four categories in the medium division, and once again brought home to Bishop Ireton the grand championship for the sixth year in a row. 
"I had full confidence in my team," said Senior Captain Reagan Houser. "It was good nerves, but I just didn't know what was going to happen. Winning was super exciting, we were sitting on the mat holding hands."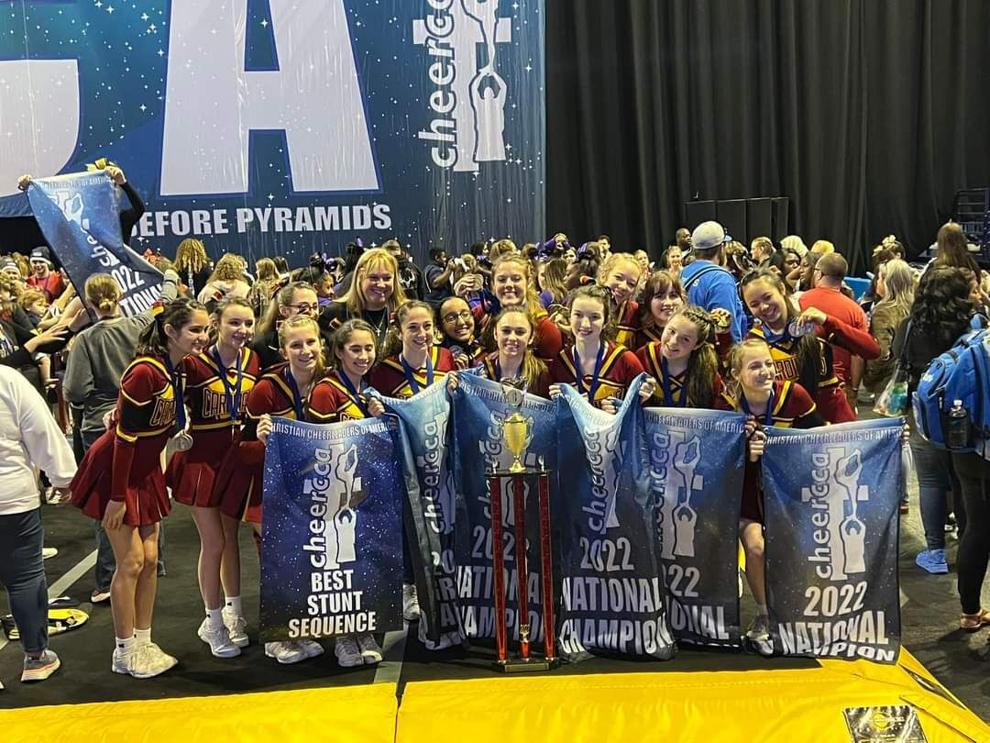 "The fact that they were able to work so well together and so hard and go and win nationals in first place for every division and take home the grand championship was incredible," said the team's Coach Angela Hope-Eskew. 
Hope-Eskew, who started coaching at Bishop Ireton in 2008, has several accolades of her own as well. She has previously twice been honored as the Bishop Ireton Coach of the Year and was named the 2013 National Christian Coach of the Year, along with other awards. In 2014, she was inducted into the Christian Cheerleading Coaches Hall of Fame.
She explained their team has competed in several divisions in the past, such as small and large, which are then composed of different categories. This year, they performed in cheer with music and cheer with no music, each of which consisted of a tumble and non-tumble event. 
The tumble includes a gymnastics element, whereas the non-tumble involves routines like basket tosses and pyramids. 
The Cardinals took the top score in all four, contributing to their overall highest score among the divisions. 
"Bishop Ireton High School is so proud of our cheerleaders and the program that Coach Angela Hope-Eskew has built," wrote Kathleen McNutt, Bishop Ireton's head of school. "Six consecutive wins as CCA National Grand Champions is an amazing feat, but not surprising when you witness the program in action. This team is a great example of how hard work, dedication to sport, and a positive, collaborative spirit can bring amazing results." 
The team contributes in numerous ways to the Bishop Ireton community, McNutt added, such as by participating in service activities with organizations like the Down's Syndrome Association and boosting school spirit for events like pep rallies and football games. 
McNutt also specifically praised Hope-Eskew for her impact on the program. "Coach Angela Hope-Eskew has been a tremendous gift to the Bishop Ireton community for the 13 years that she has been a Cardinal," McNutt wrote. "Numerous alumni cheerleaders return each year to see the coach and help build up the current team, which is a testament to the strong, winning program that she has built."
Besides a rigorous practice schedule – where the team meets three days a week for two hours at a time to refine their skills, with an additional one hour a week dedicated to tumbling – integral to the team's performance is a big and little sister pairing, where upperclassmen are paired with underclassmen in an all-encompassing relationship that helps students with cheer, school, and life. The pairings are made following the team's tryouts in August.
"There's no bench in cheer," noted Hope-Eskew, meaning that if a cheerleader fails to keep up in a certain routine, they will have to stand as the rest of the team performs it during a competition. With the big and little sister pairing, teammates are more easily able to hold each other accountable. "You have to keep up because you don't want to be the one girl standing up."
Over her many years coaching, Hope-Eskew has reaped the benefits of helping her cheerleaders flourish. "My most rewarding experience is watching them grow into young adults right in front of my eyes," remarking that their "character and confidence explode." Alongside this, as a Catholic program, Hope-Askew is also involved in nurturing their spiritual development.
Houser emphasized how the program has helped her grow. "I just learned a lot of patience, leadership, and how to carry yourself," Houser said. "With leadership opportunities on this team, I learned how to hold myself and teammates accountable."
Houser rounded out her own family legacy in the process. Her sister was also a captain on the Bishop Ireton cheerleading team who helped establish the Cardinals's winning streak by achieving the grand champion title in 2016. Like many alumni, Houser now plans to cheer in college and is looking at schools in the Southeastern Conference. 
As graduation approaches, a difficult time of the year will soon be upon the team. "You grow so close to these young ladies," Hope-Askew said. "The hardest part is when they leave for college."
Hope-Askew plans to keep leading the team. Through it all, she is mindful of the real reward that coaching them brings. "Mentoring them is my job," she said. "Coaching is just a bonus."