A woman's one-of-a-kind garden made to look like a cemetery is garnering a lot of appreciation from viewers, and some even plan on copying the idea.
The TikTok video revealing the unique garden, captioned, "Kale yeah #gothgarden," has been viewed 417,400 times and liked 50,900 times since it was shared on April 27.
According to Statista, 31.9 million households in the United States participated in vegetable gardening as of 2019. The website also reported that when it comes to herb gardening, around 18 million households participated as well.
The 23-second clip was shared by TikToker @morbidmama7, or Ariel, whose bio said she makes "morbid art."
The video began with a plot of land—a few yards long and a yard wide—surrounded by what looked like a small iron fence around its border, just like a cemetery plot, as the TikToker walked toward it.
"When you accidentally turn your garden beds into a cemetery…" the screen read in text overlay. There was also a cartoon gravestone added in the corner that read, "I'm ded."
With music playing, the woman created a small sign of paper made to look like a grave headstone to keep track of what each plant was. The first sign she made read, "Aloe from the other side," which she wrote in black marker.
"Continue the theme…" the screen read.
Next, the radishes were highlighted in the garden with a white skull next to the headstone positioned in the dirt that read, "RIP Radish." The plants were sprouting in front of the sign as well as behind it.
There were numerous other herbs and vegetables growing in the cemetery garden as well, and they were all planted behind the fencing. Some of the graveyard signs had witty sayings on them too.
Three more signs all in a row could be seen with titles that included, "Bush bean peas," "Yard-long asparagus: Bean there, done that," and "RIP Peas." However, none of them had begun to sprout.
There was even fruit in the garden, and peaches were being grown as well. "RIP Peach, est. 2022," the next paper gravestone read. Greenery was growing nearby, presumably the peaches starting to sprout.
The rosemary was flourishing everywhere, and another themed sign read, "Here lies… Rosemary."
The parsley grew in abundance behind its gravestone, which said, "RIP Parsley."
Even strawberries were planted in two separate areas with a headstone that stated, "RIP Strawberry. 'Got in a jam.'"
The herb thyme was growing in a wooden planter nearby, which also sported a gravestone that said, "It was her thyme."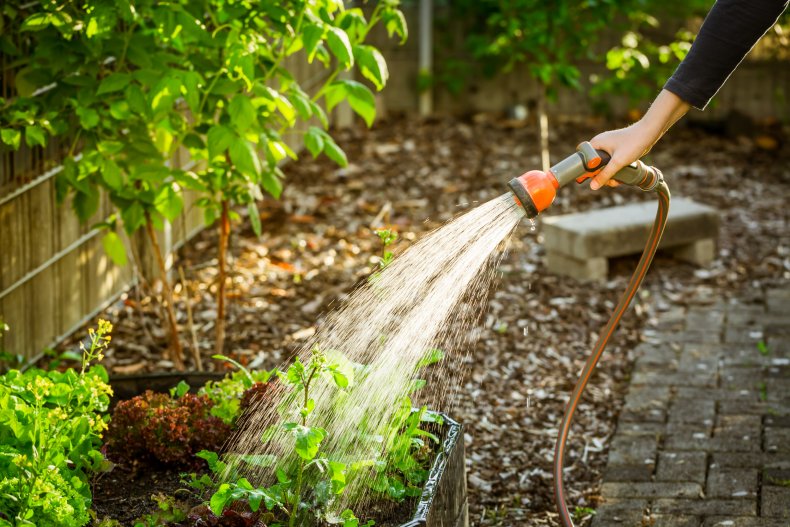 Cucumbers were sprouting behind the fence of the cemetery garden, with a sign reading, "RIP cucumber (pickling). Made a dill with the Devil."
Zucchini had begun to grow, and it also had a sign highlighting what it was. "Here lies… Zucchini, got squashed."
There was even a small cantaloupe plant sprouting next to its sign, reading, "Cantaloupe: Never married."
Lemon Verbena, also known as Lemon Beebrush, had good growth near its sign which declared, "Lemon Verbena, est. 2015."
The final sign was for wheat, which had a small amount of growth nearby with a play on words on its sign. "RIP wheat. He had his last migrain," the sign read.
Over 500 comments poured in over the viral garden cemetery, and many viewers seemed to appreciate the creativity that went into it.
One viewer called it "the best TikTok" they've seen that day, adding, "This is so great. You have inspired me for my garden goals."
A TikToker admitted they "love" the garden cemetery. "This would be an amazing way to grow a pumpkin bed," they expressed.
The video clip stirred ideas in some viewers. "This is the best, and makes me want to try gardening again," a TikToker revealed.
People didn't hold back their feelings about the unique design. "This is amazing!" a viewer said. "Gardening goals right here."
Other comments of approval included things like, "Adorable and clever," "You're a genius," and "Dude, the best garden yet."
Some might even choose to repurpose the idea in their own ways. "Hmmm… So this is what I can do with my plants that didn't make it," a viewer joked.
The video was motivating people to create their own gardens. "Never before have I been so inspired for my garden," a TikToker admitted.
Newsweek reached out to TikToker @morbidmama7 for comment.
This isn't the only story about gardens covered this month. A worker discovered an indoor garden hidden behind a wall. A Redditor revealed a hack to avoiding tick bites when gardening. In addition, learn about the hottest trends in gardening for Summer.