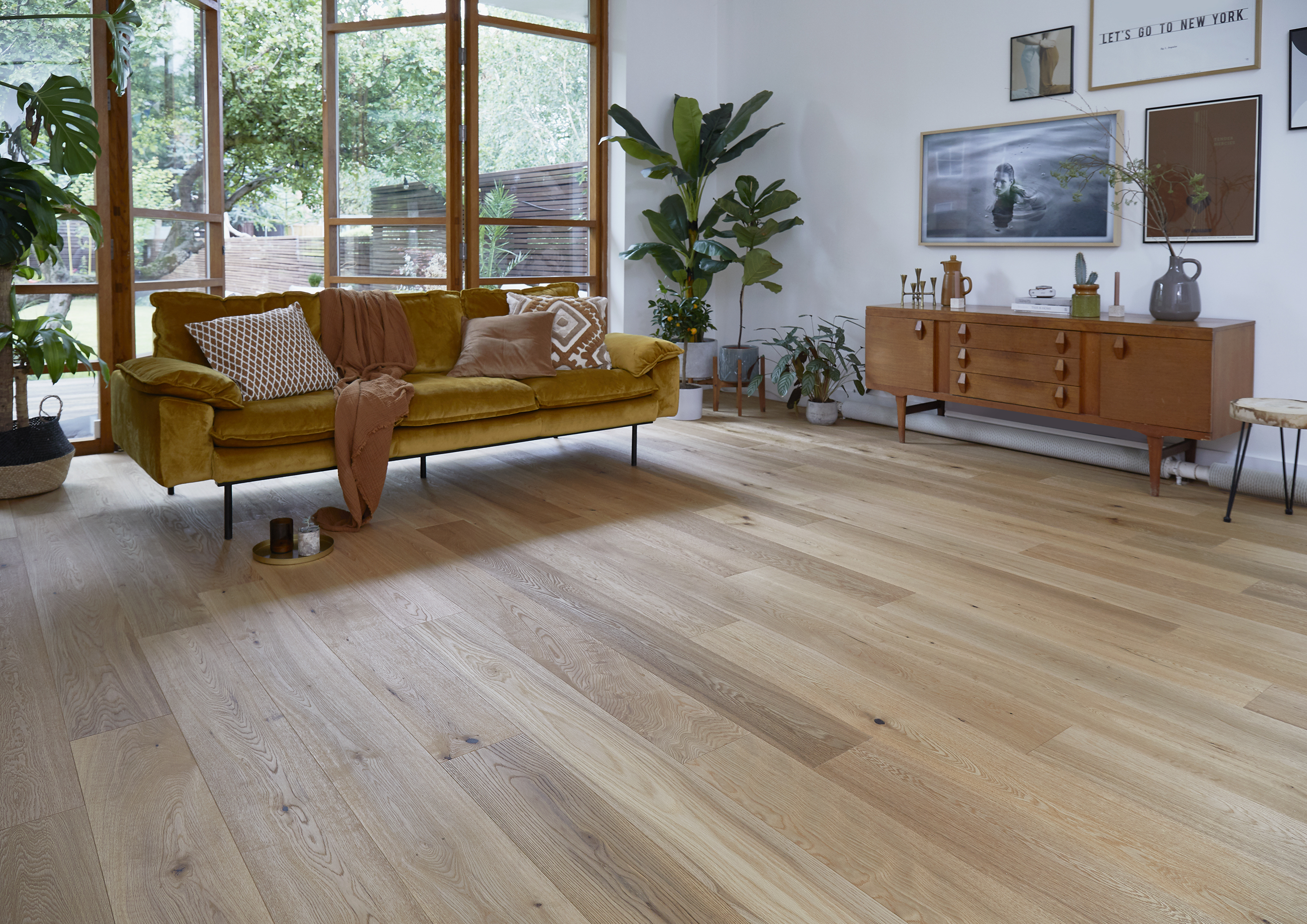 The home is a personal space. From top to bottom, being able to fully customise it to perfection is any homeowner's dream, because walking through the doors and feeling right at home is a feeling unlike any other.
While there are a myriad of things that go into what makes a beautiful, functional home, such as layout, paint colour, furniture, and so much more, often what gets forgotten about is the importance of flooring, and how it can make or break a space's interior design. While cheaper flooring options such as laminate or vinyl can be acceptable stand-ins for an immediate need, often it's extremely worthwhile to consider longer lasting flooring options such as timber, not only for its longevity, but also for its natural elegance and health benefits.
But you might say, "timber's difficult to match with what I want for my home," or that, "wooden tones don't go well with what I have in mind for my interior design." That isn't necessarily the case! You'll find, actually, that wooden flooring goes well with all interior designs and decor, and it's just a matter of finding the perfect timber floor colour for your needs and preferences, which this handy guide will help you find! From aspects such as room size, function, desired mood of the room, lighting, and so much more, we'll guide you through the process of finding the perfect timber for your home.
Room size
When it comes to choosing a timber flooring colour, room size is an important aspect to consider. Larger, wider rooms that have warm, dark tones in the timber flooring evoke a cosy feel that is intimate and exudes a sense of moodiness. On the other hand, smaller rooms look amazing with lighter coloured flooring, such as light oaks or blonde timbers, especially when coupled with white walls, high ceilings, and large windows to mimic the effect of larger rooms.
Existing flooring
Already have wooden flooring in your home? Whether you're wanting to match your existing flooring to create a cohesive look, or to create a unique space with timber flooring that contrasts with the rest of the home's timber, there's ways to create the look that you want depending on what it is. The streamlined sense of flow can work well to tie all the spaces together, while mixed flooring tones can actually be a great way to divide up the space, especially in an open-plan home.
Desired mood of the room
There's just something about wooden flooring that makes any room look a thousand times more elegant. Dark floors tend to be cosy or formal depending on the decor, and lighter floors give open and breezy vibes. So it's important to think about what you're wanting to use the room for, as well as what interior design style you're thinking of using to create the look that you want. Utilise swatches of floorboards that you're interested in, and place it on the floor to help give you an idea of how it would look fully installed, and if it would match what you're looking for.
Furniture, from colours to style
While timber can match with most of anything, it's still a good idea to consider what you've been planning for each space. Whether you're wanting bright, colourful decor, or dreaming about an accent wall, or even eyeing that beautiful statement couch for the area, you have to think about how these things will all look when placed on top of your new timber flooring, as well as if you'll be utilising rugs to break up spaces or create a softer look. This is to ensure that there is a cohesiveness within the room, and it isn't just chaotic and messy – which can result in a not-so-relaxing vibe that will clash with the rest of the house.
Lighting
Samples are your best friend when it comes to big design decisions such as paint and timber flooring. This is especially true when you think about the fact that timber flooring evolves throughout the day, with the way that it reflects and catches the light as the sun moves. So it's a great idea to take a sample home and really look at how the timber's tones shift and change throughout morning, noon, and evening, as well as when you turn on your lights for the nighttime. Lots of natural light? Darker, warmer toned flooring can be a statement. Not a lot of natural light? Lighter flooring is your best bet for a brighter, more open space.
Flooring finishes and patterns
After something a little different? Some engineered timber flooring in Melbourne manufacturers offer parquetry options to create flooring that can range from dramatic to timeless, if you're not after the simple plank look. Otherwise, it's always a great idea to not only consider the colours or tones of the timber that you'll be using, but also the timber itself.
What's more, it's important to remember that you can always refinish and polish your existing timber flooring to change up the look and mood of the space in the future!
Personal taste
At the end of the day, it all comes down to personal taste. Your home is an extension of you, and therefore needs to reflect your sense of personal style. From light to dark toned floors, wide to narrow planks, natural to stained finishes, and everything in between, your perfect timber colour floor is what you make it to be!